Checkout Blocks Function Added to AddUp Shopify App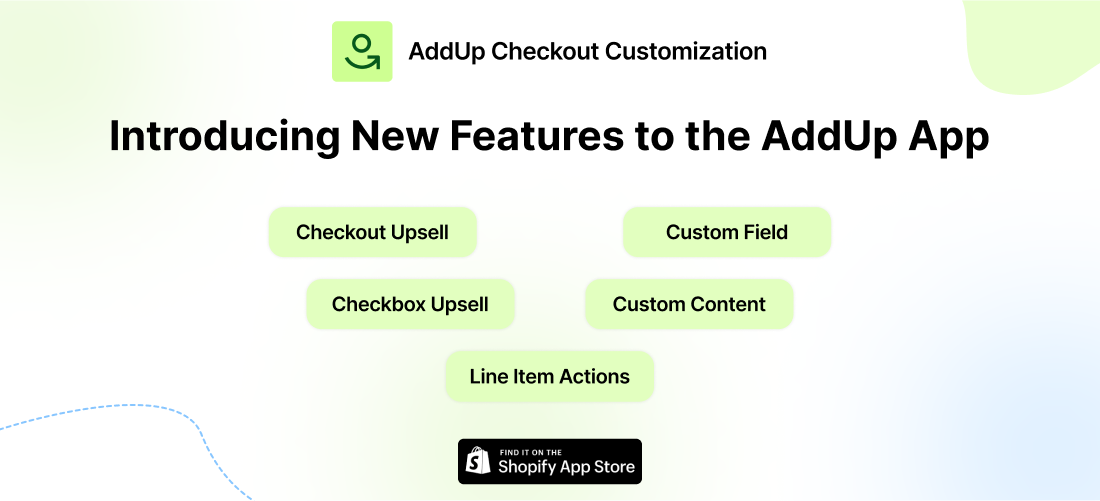 We are thrilled to announce a significant enhancement to the AddUp Checkout Customization app, designed to empower your Shopify store even further. With the introduction of our new Checkout Block Functions, your online store is assured to experience a remarkable surge in revenue and conversions.
These Checkout Block Functions are carefully crafted to provide you with unparalleled customization options for your store's checkout process. Here's a closer look at some of the exciting benefits they bring:
Checkout Upsell
This feature can be used to seamlessly display upsells directly within Shopify's checkout and Shop Pay checkout. You can effortlessly present one or more complementary products or collections to customers based on the contents of their shopping cart. You get access to the potential of suggesting additional items that perfectly complement their selected products, encouraging them to explore more and make additional purchases. With our versatile display rules, you have complete control over when and how these upsells appear to your customers. You can also set the minimum quantity that needs to be added in order to buy the upsell. You can hide the products in the upsell block if they have already been added to the cart.
Checkbox Upsell
Checkbox upsells offer a flexible solution for scenarios where it is crucial to maintain the visibility of upsell opportunities even after customers have added a product to their cart. This feature is beneficial for a wide range of offerings, including shipping warranty opt-ins, insurance opt-ins, free gifts, and product samples. By presenting them as selectable checkboxes, customers can conveniently choose to include or exclude these upsell products from their cart, ensuring they have full control over their purchase decisions. Checkbox upsells are ideal for offering free gifts or product samples as an enticing incentive for customers to make a purchase. By allowing them to opt in with a simple checkbox, you simplify the process, making it hassle-free and increasing the likelihood of acceptance.
Custom Field
This feature allows you to present various types of fields, each serving different purposes. Make certain information mandatory by utilizing the required custom fields. These fields ensure that customers provide essential details before proceeding to complete their purchase, streamlining order processing and preventing incomplete submissions. Our custom fields support a wide array of input types, including text, dropdowns, and checkboxes. This versatility enables you to collect various types of data, from specific preferences to personalized messages or promotional codes. Use text fields to collect open-ended responses, implement dropdown custom fields to provide customers with predefined choices, and employ checkbox custom fields to enable customers to make multiple selections from a list of choices.
Custom Content
This feature introduces a new level of control and personalization to your checkout process, allowing you to display specific messages and information tailored to each customer's unique order details. You can now dynamically adjust the content shown during checkout based on predefined conditions, ensuring that your customers receive relevant and targeted messaging at the most crucial stage of their purchase journey. You can now create highly targeted messages and offers based on factors such as cart value, specific product selections, or even customer location. You can display special discount codes or exclusive offers to customers who reach a certain cart value threshold, incentivizing them to add more items to qualify for the promotion.
Line Item Actions
This feature allows customers to make changes to their cart products directly from the checkout page. They can easily add or remove items from their cart. They can switch variants or modify the quantity of the product with simple buttons displayed beside the product in the cart list. Products can also be removed easily from the list. This feature also contributes to reducing cart abandonment rates, as customers can make necessary changes without any extra steps or interruptions.
Conclusion
To sum up, these innovative features collectively redefine the checkout experience for your customers. By integrating upselling opportunities, enabling personalized customizations, and providing informative content, you create a shopping journey that is engaging, user-friendly, and tailored to individual preferences. The result is higher conversion rates, increased average order values, and a more satisfied and loyal customer base.
Install AddUp Checkout Customization ~ 14-Day free trial available.
Checkout this blog on – How to Hide Payment/Delivery Methods on Shopify Checkout Page using the AddUp Checkout Customization App.