7 New Updates by Rivyo Product Reviews & QA Shopify App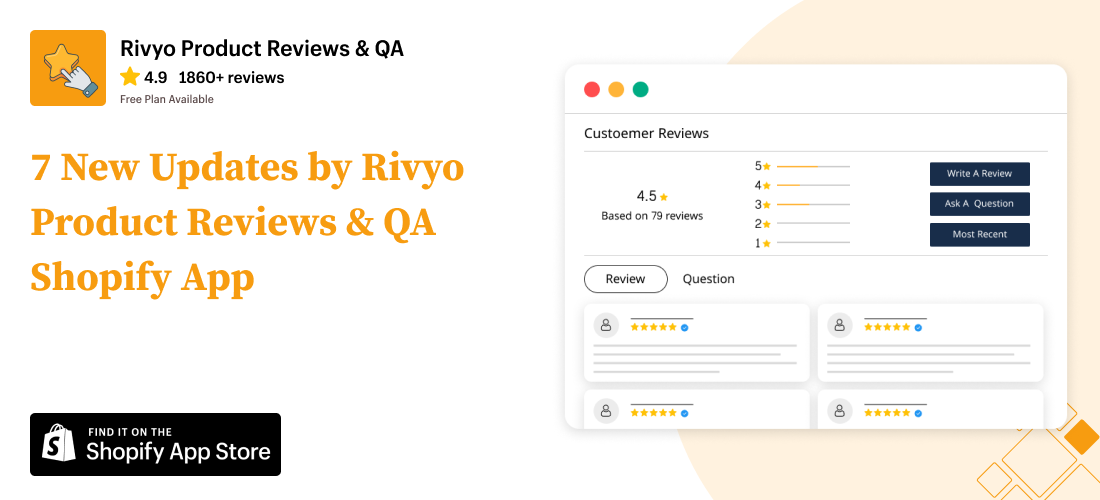 Rivyo Product Reviews & QA can help you create your online store's reputation and lead to increase sales by giving the customers accurate information on a product or service they are considering purchasing. Online store reviews and ratings build trust among customers who know nothing about your business and influence the customers to buy your product or service.
We are always working on providing solutions for all of our Shopify eCommerce users over there with the help of our Shopify apps. Our app "Rivyo Product Reviews & QA" has come up with seven new updates that were done in the month of November. Check all the newly added updates below:
Write Review Form Popup
We have added a new update Write Review Form Popup, this can help merchants engage & inspire more customers to drop a review, and also it will make it easy for the customers to fill up the details and submit & share their experiences as a review.
Import Export Store Review
Import Export Store Reviews new feature by Rivyo Product Reviews helps you to easily export and import store reviews. Check it out it is super simple to use! Steps to follow: Go to Import & Export> Import Export Store Review.
Review History Popup
Now you can Select Multiple Reviews in Review History, Delete, Add to Testimonial, and Remove from Testimonial. Explore now it's easy to use! Steps to follow: Go to Import & Export> Import Product Reviews> Import Review History> Actions> View Items
Block Email Address
It allows you to add your customer's email and once you add an email to this Block Email List, all the added emails will no longer be able to receive any review request email from your app. Steps to follow: Go to Notification > Email > Block Email
Show/Hide Images in Testimonial
We have addedShow/Hide Review Image that allows you to attract & engage your store visitors by showing an image with the review. Steps to follow: Go to Display Settings> Testimonial> Show Review Image
Review Per Page
Now you can set the Review Per Page in Create a Review Page and easily control the number of reviews displayed per page while showing all reviews to your store visitors. Steps to follow: Go to Create a Review Page > Reviews Per Page
Added Filter In All Reviews Page
We have added a Filter option for the All Reviews Pages, which includes Most Recent, Highest Ratings, Lowest Ratings, Only Pictures, and Pictures First options. Let your store visitors explore all the reviews.
Conclusion:
There is no denying that online shopping has become an integral part of every consumer's life. This digital revolution also opened doors to new ways of doing business, including online merchant reviews and ratings, which have their fair share of importance in the overall scheme of things. We strongly believe that our Shopify app "Rivyo Product Reviews & QA" will provide a solid platform for merchants to gather product reviews and make sure that the customers are getting reliable information about the products or services they are looking forward to buying.