How to create a build box & show anywhere in-store using shortcode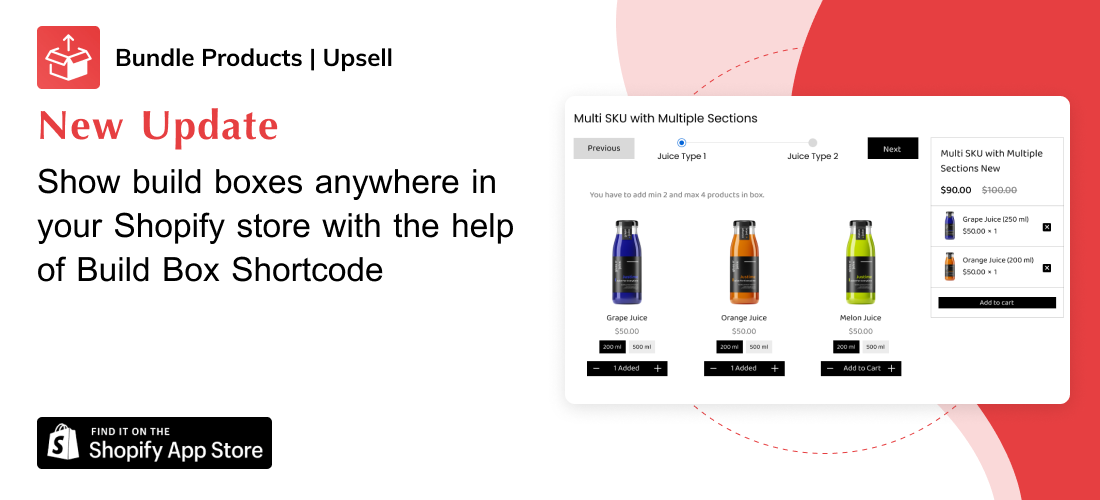 As Product Bundle, Quantity Bundle, Frequently Bought Together, & Combo Bundle – Build Box is also one of the most important and useful ways to boost sales. Build Box allows customers to add their favorite products and create a customized bundle box. Bundle Products Upsell provides two types of build boxes, that are 'Single SKU Bundle' & 'Multiple SKU Bundle' with two structures 'Single Section' & 'Multiple Section' which works for both types of build boxes.
What is a Build Box?
'Build-a-box', also known as 'bundling', where a customer is allowed to literally build their own customized box of products or services, and check them out together, as a bundle!
How to create Build Box?
Check & follow these simple steps to create a Build Box:
Log in to your

Shopify

store

On the left-hand side go to

Apps

Click on

Bundle Products Upsell

A dashboard will get open

On the left-hand side click on

Bundle

On the right-hand side at the top click on

Create Bundle

Go to

Build Box

and click on

Create Bundle

Now you can see

Create New Build Box

Give

Box Name

&

Box Widget Title

Select

Bundle Type

Select

Bundle Structure

Set

Minimum & Maximum

product quantity set

Box Fixed Limit Message

and

Add Product

Add

Bundle Image

Select

Pricing Options

Set

Grid Per Row

Set

Discount

Set

Shipping & Weight Setting

Set

Additional Settings

& click on

Save
How to add a build box shortcode?
Log in to your

Shopify

store

Go to

Apps

Click on

Bundle Products | Upsell

Then on the left-hand side click on

Settings

Then on the right-hand side click on

Build Box Design

Using

Build Box Design

you can change the design for the build box & add

Tags

wherever you want to display the build box in your store

 
Now you know how to create a build box & use shortcodes for your store, make one for your Shopify store using Bundle Products Upsell, and allow your customers to customize and build their own favorite bundles.

Try our app: https://apps.shopify.com/bundle-products-by-thimatic