Social Media Marketing Strategy For 2019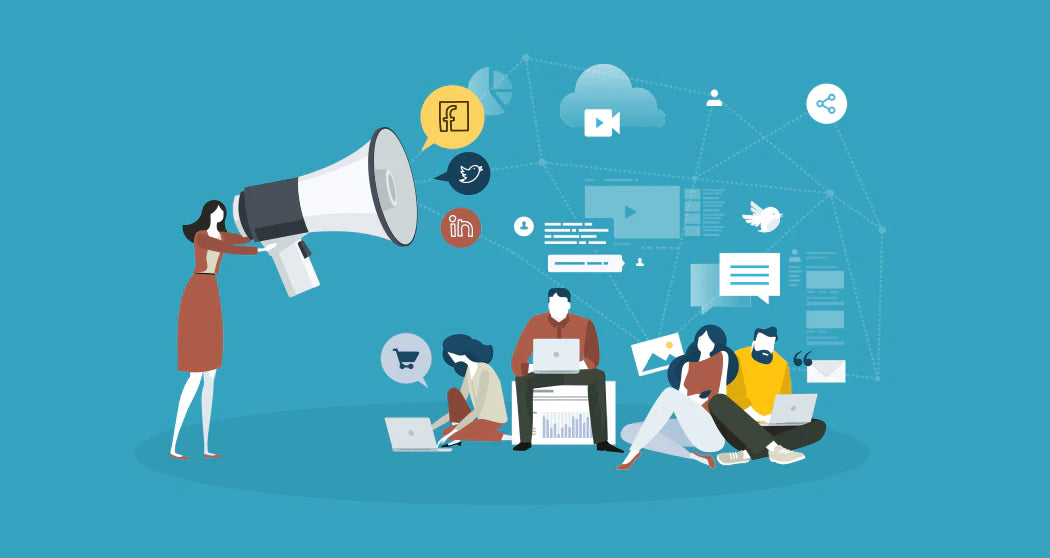 Every Shopify store owner face that how to increase online sales? Knowing where to start and how to reach out from the thousands of other e-commerce sites can be challenging.Social media is the best option to increase sales online as 2018 was a lightning year for social marketing to say the least. social media is surely an ever-changing factor.
Facebook was the first social channels to exceed 1 billion registered accounts and currently sits at 2.27 billion monthly active users. Instagram exceeding 1 billion monthly active users, and over 400 million people using Instagram Stories on a daily basis. social media marketing provides opportunities for an e-commerce store to promote their products and engaging with the customer so connect your Shopify store with Social Media now.
What is social media marketing?
Social media marketing is the process of increasing your Shopify store traffic and sales online through social media sites. SMM helps to get direct reviews and feedback from the customer while your store makes more attractive and reliable. The most attractive part of SMM is to give a consumer the chance to ask voice complaints or questions and feel they are being listened So SMM is also called social customer relationship management.
The Best Social Media Marketing Strategy 2019
1. Set Your Social Media Goals.

Without goals, it's difficult to know how well your social media strategy is working. Clear goals will not only help to know to move your strategy forward, but they will also work as metrics when it comes to measuring your process.To set your social media goals, you need to think about what you want to achieve and build a goal that is SMART (Specific, Measurable, Achievable, Relevant, and Time-bound.) Different businesses will have different goals, so think your options and let your goals guide the base of your strategy.

The S.M.A.R.T. goal framework SMART goals are one of the most popular and valuable goal-setting frameworks for business.

Specific: Does your goal clearly and specifically state what you are trying to achieve on social.
Measurable: Each goal needs some kind of metric or analytics. "Expand your customer services" is one of the best ideas but it's not a goal without you have a way to measure that growth.
Attainable: Challenging goal is good for you but you must have specific reasons & resources to achieve a goal. Never make a goal which is impossible to fulfill.
Relevant: Be clear with your goal & with your work. You must be aware of the task you are performing. For example, Your goal is to have a thousand visitors on your Instagram shop account but is it beneficial for your online business? Are they buying any products through your Instagram shop?
Timely: Finishing date is the key point to achieve your goal. When you are tied with the time limit, it will encourage you to achieve your goal.

2. Determine Which Social Media Sites Are Right For You.

After achieving your goal, choosing the right social media channel with understanding targeting audience and what social media are most likely to use.If you are new in social media Facebook or Instagram is often the best place to start. As you get more satisfied, you may want to expand to a few more networks to reach more of your audience.

Understand Your Social Media Audience: Your online audiences are continually changing so it is our responsibility to be up-to-date with the current market status & what every audience wants.

3. Check Out Your Competitors.

To choose a social media platform to promote your brand or product, take a little bit time to analyze competitor marketing strategy and analyze their approach. For example, you promote your Shopify themes you need to check competitor promoting content, Hashtag, videos and take note of how many Like or followers they have, and how many Likes and Comments they're growing on average. And also you need to pay attention to competitor positioning their business on social media so you can do something similar or intentionally different to stand out.

4. Create High-Quality Product Photos.

Using high-quality images of your product you can quickly increase your store sales & traffic. If you are on a limited budget then today's smartphone cameras are usually more than enough to take high-quality product photos.

With multiple products in one photo, you can tag each product individually to let interested buyers learn more about what they're interested in.

High-resolution photos of your products help customers to see what products actually look like before buying.

5. Offer Unique And Original Content.

You should be posting a post constantly and consistently & make sure that every post contains original, accurate and relevant content. Don't copy content from other competitor post but provide your own different content. This will help you to reach apart from the competition and help readers to become an engaged follower.

Share your blog articles to inspire people's interest in your business else products, and attract more visitors to your site. You can also share your video content which describes all product features which helps to convert a visitor into a customer.

6. Decide The Key Times To Post.

Different social media have different marketing strategies to promote products. Now the question is which time is best to promote products on social media? Use social media audit from 2018, as well as your audience data to help determine the best time to share a post on social media but it depends on your targeting audience country.

Facebook – Best days to post are Wednesday, Thursday and Friday, with the key time being 12 pm – 4 pm as per IST.
Instagram – Best days to post are Wednesday, Thursday and Friday, while the key time is 11 am – 1 pm as per IST.
Twitter – Best days include Monday, Tuesday, Wednesday and Thursday around 12 pm as per IST.
LinkedIn – View to post between 5 and 6 pm on a Tuesday, Wednesday or Thursday.

7. Measure Your Results And Optimize For The Best Performance.

Result will show how your social media is effective & you can see how many followers gained, traffic of store & how many visitors convert into a customer.

let's know some common analytics results:

Followers/Likes – Shows the size of your social media visitor.
Reach – Shows how many people are really seeing your social media posts.
Engagements – Show the number of comments, likes, and shares of your content or post.
Clicks – shows the number of times your posts are clicked on your post.

If you are posting multiple times in a week then you have lots of data to review. look at your all over performance after the end of the month and decide next month target. once you have overall analytics you should be able to make posting schedule and optimize all results for the best performance.