Increase Sales with Upselling on Shopify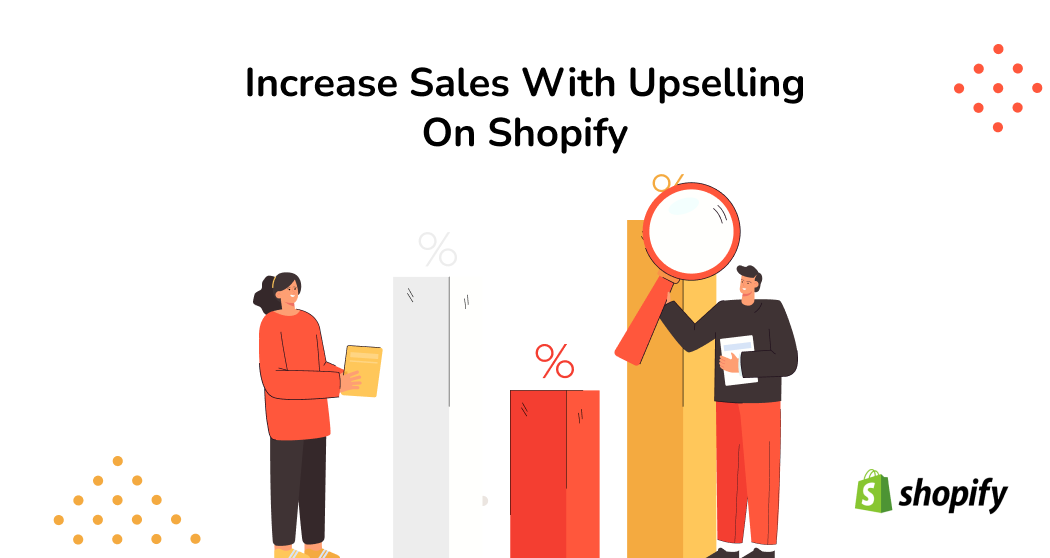 Learn how to grow your Shopify store with the help of upselling and cross-selling techniques.
How to get more sales with upselling and cross-selling on Shopify
Every e-commerce business is building strategies to continuously grow sales and improve customer loyalty. And one of the greatest ways to achieve these goals is upselling and cross-selling.
These techniques represent an affordable way to boost revenue: selling more to an existing customer has 60-70% chances, while selling to a new prospect has only 5-20%. Compared to increasingly expensive customer acquisition, upselling lets businesses easily grow their average order value and unit economics.
Let's see how to easily upsell and cross-sell products on Shopify, what practices to follow, and what tools to use.
What is upselling and how does it work?
First of all, let's discover what upselling and cross-selling mean. Upselling is often used as a general term that includes both these techniques: it's a sales practice of offering an additional product to a customer's purchase.
True upselling means offering the same but upgraded product, while cross-selling means offering other products on top of the original one. For instance, if a customer buys a 350ml thermos, a store might suggest a 500ml one as an upsell or relevant additions like a thermos bag as a cross-sell.
There's also a downselling technique that implies offering a less expensive product when a customer is hesitant.
Besides offering more products to a customer, you can upsell various services: extended warranties, gift wrappings, or anything else that makes sense for your business.
How to upsell on Shopify?
Without dedicated tools, you don't have much flexibility over upselling offers in your Shopify store. You can attract more customers to more of your products with upsell apps but you also can do the following:
• Use automated recommendations on product pages. Without actively offering something to a customer, you can perform so-called soft upselling and suggest popular and relevant products in a special block under a product description or anywhere else. Shopify automatically generates recommendations based on order and product information, and you can add and modify them in the Product recommendations section in the theme editor.
• Add services to different shipping tiers. You can set up shipping upsells by editing shipping tiers and offering additional services in them. For instance, you can make a more expensive shipping option that includes an extended warranty.
How to upsell with the help of Shopify apps?
With apps designed for upselling and cross-selling, you have a lot more customization options and room for creativity. With the help of apps, you can set upsell offers at different stages of the buyer's journey: after a customer adds something to the cart, when they are on the cart page, or when they proceed to checkout.
Upsell apps for Shopify differ in when and how your offer can be displayed. In most cases, you'll have a pop-up window triggered by certain conditions: when a customer adds a chosen product, a pop-up offers them a relevant addition.
This is how it works in the Candy Rack app. It gives you several pre-made templates, and when you choose one, you're free to customize it. It's a pre-purchase upsell app that displays your offers when a customer clicks on the add-to-cart button. Besides choosing upsell products and conditions, you can modify your pop-up's colors, title, and button text, add a custom note or a discount to the offer.
An upsell pop-up made in the Candy Rack app
When you're not sure what items to cross-sell, the app can do that for you: choose the Smart Auto-Upsell template, and it will automatically detect the most suitable product to offer. The feature uses the same algorithm that lies at the basis of Shopify's product recommendations we've mentioned.
Here are some other Shopify apps for upselling you can consider:
• PickyStory. This app allows you to create bundles—combine several products that might go together and offer them at a discounted price. It includes a free plan, and a monthly cost depends on how much revenue you generate with the help of the app.

• Bold Upsell. This app allows for both in-cart and post-purchase offers. Plus, it's designed to develop upselling funnels and display up to three rounds of recommendations based on previous customer responses. The app's cost starts from $9.99 per month, but if you're interested in upsell funnels, you'll have to add $99.

• ReConvert. This app works for post-purchase offers only. You can customize the thank-you page to feature upsells and cross-sells, collect feedback, and more. The price depends on the volume of your store and is free for up to 49 monthly orders.

• Last Upsell. Also designed for post-purchase upsells, this app lets you add offers either on a standalone page or in a pop-up on the thank-you page. If a customer agrees to the offer, the app doesn't create a new order but adjusts the existing one. The monthly fee for using it depends on your Shopify plan and starts from $19.99.
Grow your Shopify store with upselling
If you're not creating upsell and cross-sell offers, you're missing the chances to boost sales and customer loyalty at minimum expense. By using Shopify apps, you can create a lot of offers, including whole upsell funnels, and attract people to more of your products and services.