Create an Immersive Experience with these Features
Filter Feed
Merchants can display specific images from the Instagram feed by filtering them through hashtags. Show relevant images of the products that are currently popular in your store.
Change feed with filters without manually selecting each image.
Simplify the process of selecting a specific feed through hashtags.
 Install App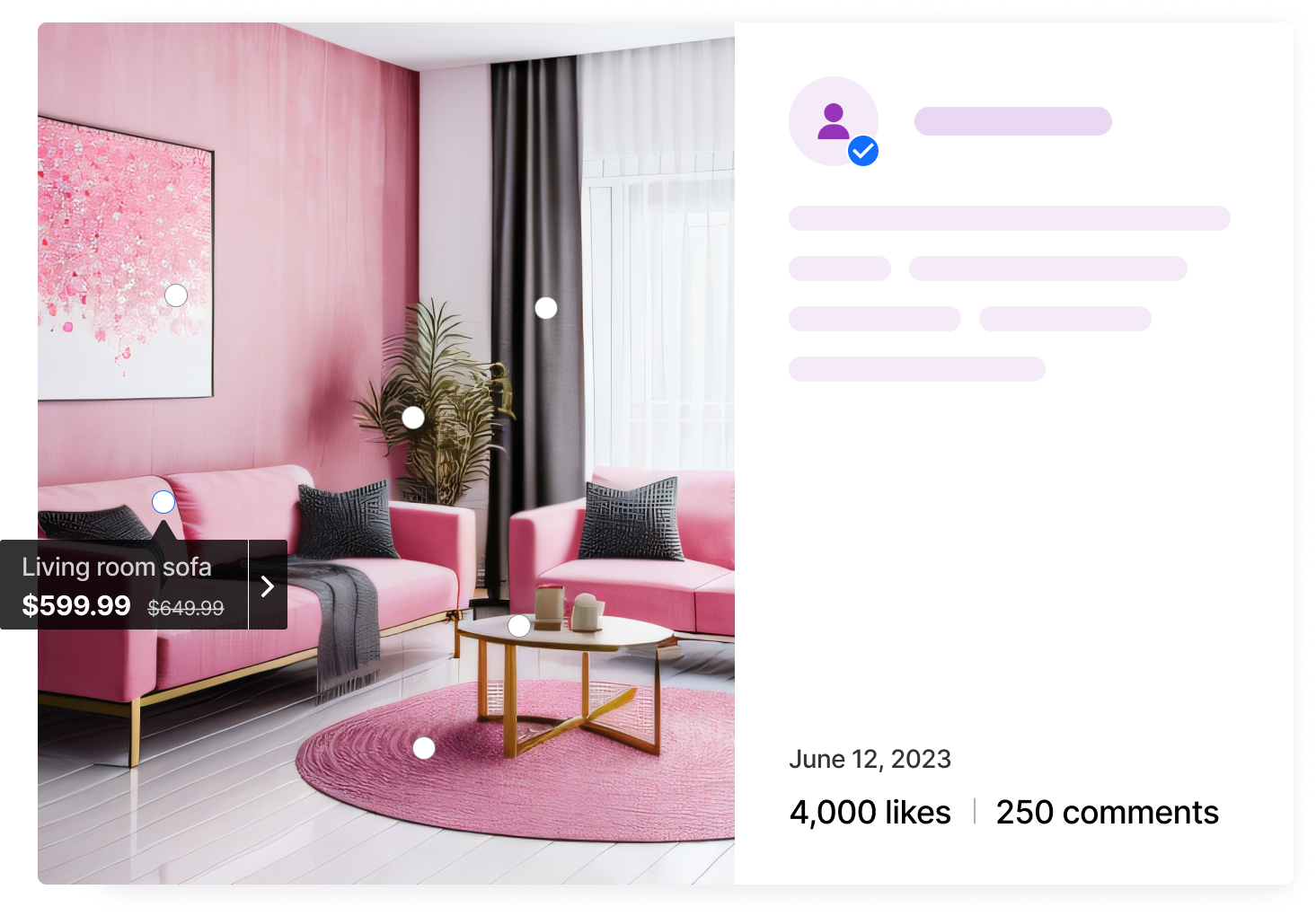 Shoppable Feed
Allow customers to add products to their cart directly from the feed by assigning tags to the respective products in the image. Customers can simply click on the desired item in the image.
Display price
Make price of the product visible on the image when it is hovered over.
Multiple tags
Tag various products in a single image to increase discoverability.
View Demo Store
Multiple Layouts
Utilize the flexibility to select from a range of 5 different layouts to showcase your Instagram Feed on your website. Highlight specific images by displaying them in a larger size.
Choose the most suitable layout for your products.
Customize the layout by changing CTA text and button colors.
View Guide
Product Page Feed
Display applicable Instagram posts from your feed on the product page below the product image. Increase conversion rates by displaying attractive real-life images of the listed product.
Customize feed
Select the images you want to show on the specific product page.
More content
Provide more content about the product, along with reviews.
View Feature
Testimonials for Our Shopify App
Maximizing Sales with Instagram
The support for this app is stellar! I ran into trouble with the install and their support team went above and beyond to help me tweak the configuration for my IG gallery to look exactly perfect. Great app, great service!

Koraa

Best app for Instagram and best customer support! It works perfect with my site and has a lot of features the customer support was very helpful and kind. After testing a lot of apps I can say this is the best for shoppable Instagram.

Tayroni

I've tried almost all of Shopify's IG feed apps and this one is the perfect one! It has all the features we want. It's comprehensive! Thanks to the developers! Hope this excellent software can continue to optimize and improve, I'll continue to use it!

Oden's eye
Key Features
Button Customization

Change the shop button color and CTA text to maintain your brand's theme and tone of voice. Display or hide the price of the product.

No Branding

No watermark or branding of the app will be displayed on the feed. We prioritize maintaining the integrity of your content and brand identity.

User Generated Content

Provide more content about the products by displaying images that are shared by your customers to give a close-to-real feel of the product.

Convenient Shopping

Customers can add the tagged products to their cart directly from the images. They don't have to search for each product showcased in the feed.

Quick Support

Our app provides instant support through live chat and emails almost 24/7. You can contact our Support Team if you are facing any issues.

Social proof

Build trust among new buyers by displaying a type of social proof on your website. Increase the chances of conversions with UGC.

Detailed Analytics

Change your feed based on analytics data like gallery views, popup engagements, popup link clicks, and product views.

Responsive Design

The feed and shop buttons integrate smoothly across all devices and screens. The app has a responsive & mobile-friendly design.
Apps you Love, Integrated with Insta plus
Pricing Plan
One plan covers all the required features
Save 17%

Monthly Plan
Yearly Plan
6 Instagram Gallery Feed

Unlimited product tags

Search by @ and #

User Generated Content (UGC)

5+ Layout Options

Analytics & Quick Support