How to approach customers with price drop & re-stock alerts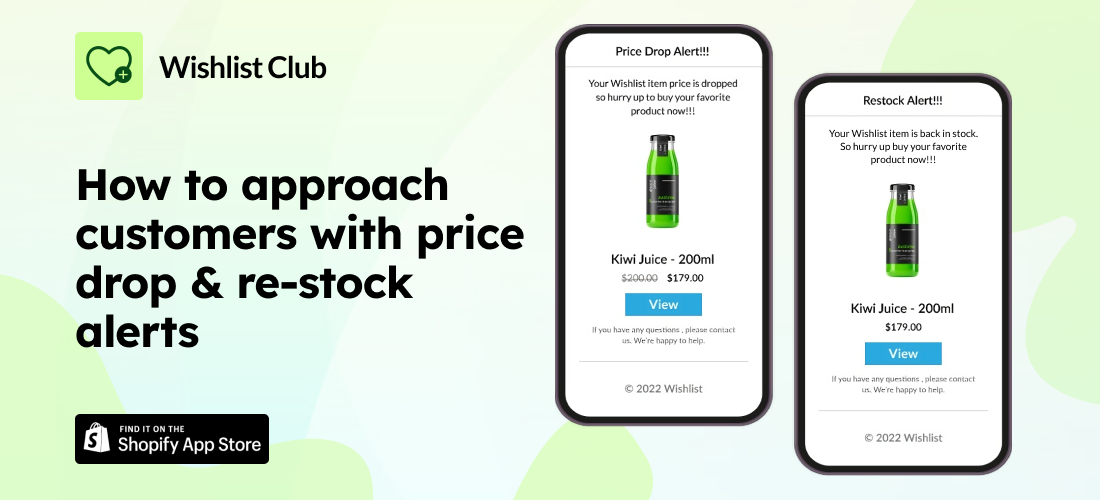 Customers often add products to their wishlists with the thought of waiting for a price drop or buying them later. This is why allowing viewers to create a wishlist on your Shopify store is important. Customers can hold on to the product until they make a decision on buying it.
What is a price drop email?
Sending price-drop emails is a marketing technique used to inform customers of discounts and convince them that they will save money if they make a purchase right now. Brands use this technique to clear low-selling stock as well as persuade customers to buy products lying in their wishlists.
Wishlist Club has a feature that allows your customers to decide whether they want to receive a price-drop alert or not.
Wishlist Club is a Shopify app that offers a variety of features for making a wishlist on the store. Customers can make multiple wishlists without logging in to the stores. Wishlists can also be shared with friends and family through a link. The buttons are easy to customize and can be set according to the theme of the website.
The app offers price-drop and re-stock alerts to bring back shoppers. Let see how it is done:
How to send Price-drop emails
Highlight the Product Features – A price-drop isn't the only factor capable of persuading the customer to make a purchase. You need to remind your customers why they added the product to their wishlist in the first place. Explain to them what they will get at a discounted price.
Personalize your emails – Make it obvious that the emails show products based on their recent search activity or items in their wishlists. This makes the customer feel special and has a better impact on your brand. Increase the chances of conversion by alerting your customers about the items they are interested in.
Add product recommendations – Include product recommendations based on their browsing history along with the price drop alerts. Provide enough details to trigger your customer into making a purchase. Recommending products can increase your order size as customers might be in need of an extra product at the time of reading the email.
Use Trigger words – Create FOMO around the customer by using trigger words like 'Offer ends soon' or 'Limited Offer'. Trigger words make the readers take instant action on the purchase. Do not overuse trigger words because they won't match the other words, and the meaning you want to portray won't be clear.
Make navigation easy with CTA – Your price-drop alert email should include a Call-to-Action so that the readers can act on their decision from the email itself. For example, customers can carry out the purchase instantly, if the email contains a link to add the product to the cart and then is redirected to the checkout page.
Indicate how much they will save – Customers are aware that the email is regarding a price drop, but making the price difference visible is just the cherry on top. Clearly indicate how much the customer will save on making a purchase right now.
What is a re-stock alert?
Re-stock alert emails are sent to notify customers about sold-out products being back in stock. Customers can add sold-out products to their wishlist and choose to be alerted when they are back in stock.
How to send re-stock alert emails
Timing – Approach the customers as soon as the products are back in stock. You may want to approach those who have recently added the product to their wishlist because the old customers may have found a substitute until now. 
Be Particular – Include the main purpose of the email in your subject line to make sure people open your email. Be concise and pass a clear message to the readers, as including other offers may confuse the customer. Include an image of the particular product and provide a clear Call-to-action for the customers to click on. 
Increase engagement – Your email should include a few product recommendations that are similar to the primary product so that customers can browse other products if they aren't any more interested in the product that is back in stock. However, make sure the main focus of the email is on the primary product.
It's crucial to prioritize building strong customer relationships for sustained success. Make sure your alerts deliver value and meaningfully engage customers, avoiding any intrusion or spam-like behavior.
Wishlist Club is one of the best Shopify apps that can help Shopify store owners in sending price-drop and re-stock alert emails.
Read this blog on How to approach customers with price drop & re-stock alerts.