How to Turn a Wishlist into Sales for Your Shopify Store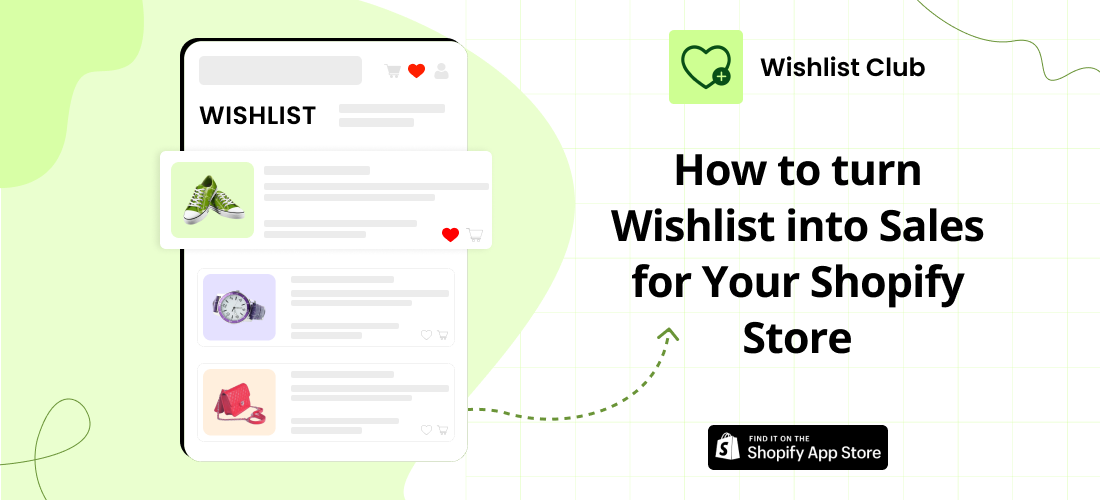 What is a Wishlist?
A wishlist is a feature that allows customers to save products for later purchases. Whether they are waiting for a sale or the product to be back in stock, customers can organize their products in a wishlist to plan their purchases ahead.
Strategies to Convert Customer Wishlists into Sales
1) Choose a smart wishlist app: If you are planning to allow a wishlist on your Shopify store, you need a smart app that offers all the features necessary along with a wishlist. Wishlist Club is a Shopify app that provides guest wishlists. Shoppers do not have to log in to save their wishlists. The app allows customers to create multiple wishlists to organize their favorite products. Wishlist can also be shared on social media or through a link to friends and family. Merchants can automate sending price-drop and restock alert emails based on the items saved by customers in their wishlists.
2) Place the wishlist button in relevant places: The wishlist button should be easily visible to shoppers when they are browsing products on your store. Place the button on the product page and collections page so that shoppers can easily add the product to their wishlist and complete the purchase from another device. Make sure the button is highlighted to clearly display its use.
3) Remind customers to save products: Customers forget to save products to their wishlist before leaving the website. Remind customers to save items by notifying them if they are about to leave your store without saving the item they recently viewed. You are missing out on sales opportunities if you do not have this feature enabled on your store.
4) Create personalized campaigns with wishlist data: Improve customer engagement by tailoring your marketing campaign based on the data collected from wishlists on your store. Personalized email campaigns can be drafted to suggest products similar to those added to their wishlist. Send price-drop and restock alerts to customers to notify them to continue their purchase.
5) Track added products: Merchants can determine which products are in high demand and what kind of products are being saved by a particular customer. They can decide whether to change the pricing of a product or display any specific offers to boost conversion. Customers are more likely to purchase the item saved in their wishlist if they see an ad regarding it. The ad also reminds them about the product they may have saved long ago.
Read this Blog to learn How to approach customers with price drop & re-stock alerts.
Wishlist Club Plans
Why Choose Wishlist Club?
Wishlist Club has an overall rating of 4.9 on the Shopify App Store. The app provides easy customization to place and customize the 'add to wishlist' button to match your Shopify store theme. It gives live updates of products in the wishlist to help plan their stock and make them available to fulfill the demand. Try our app and see how the automated price drop and restock email alerts make a huge difference in bringing back shoppers.