Increase Your Profits with these Customization Features
Product Discount
Create conditional or tiered product discounts of a fixed amount or percentage. Create conditions from a set of rules, and the discount will be applied if those conditions apply to the order.
Provide discounts for only the orders that benefit your store.
Persuade customers to fulfill order requirements to get a discount.
Explore Function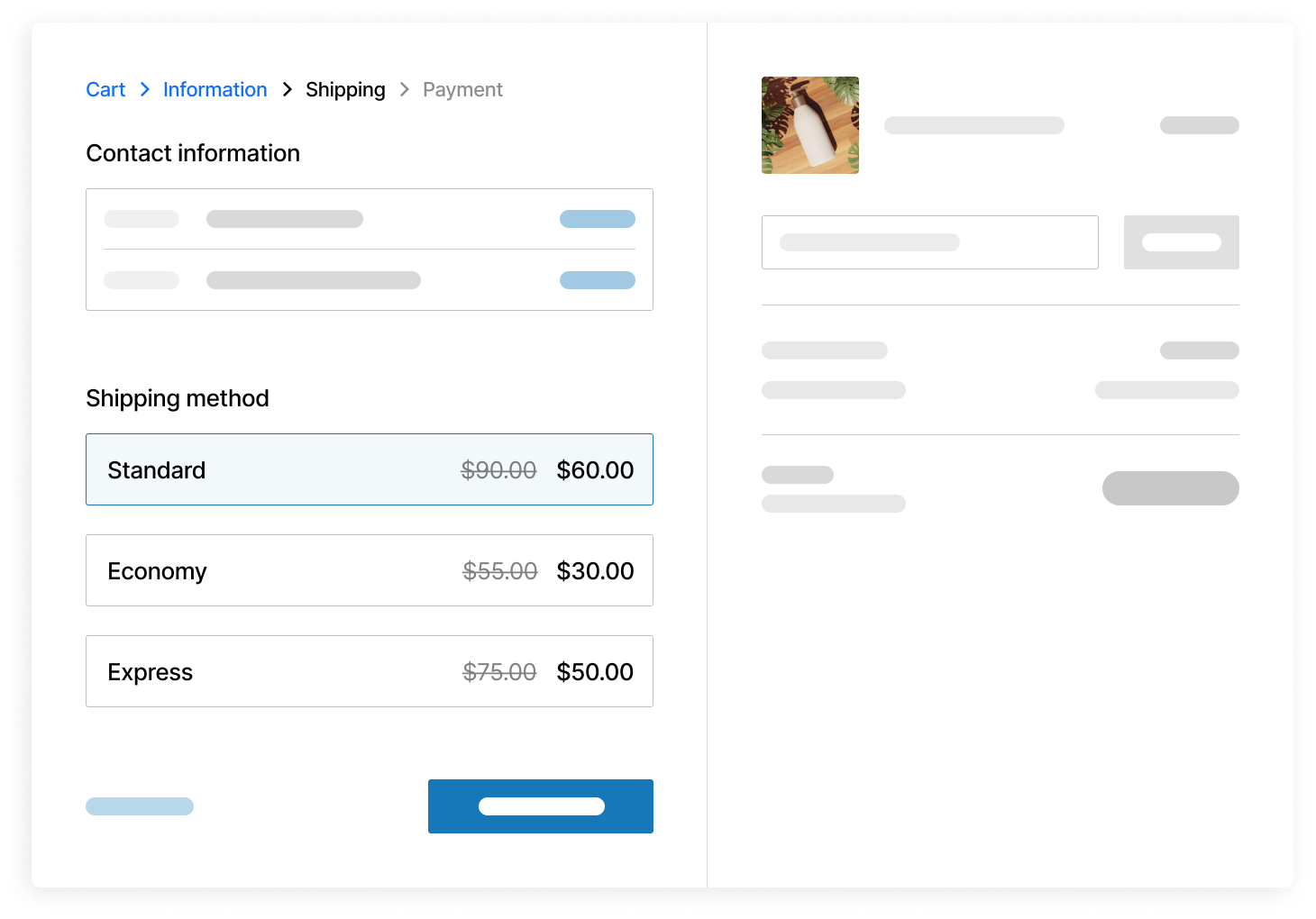 Shipping Discount
Offer a reduced price on the shipping charge at the checkout by creating a discount that applies to one or more shipping rates. The discount will be applied if the order meets the conditions you created.
Promote carriers
Convince customers to choose specific delivery methods.
Preferred method
Attract customers to use delivery methods that benefit you.
 Install App
No Code Customization
Effortlessly move your script editor's edits without any coding. No technical knowledge or skills are required to create seamless discounts or customize payment and delivery methods at checkout.
Create customizations & discounts using rules and conditions.
Take your customizations to new heights using Shopify functions.
Explore App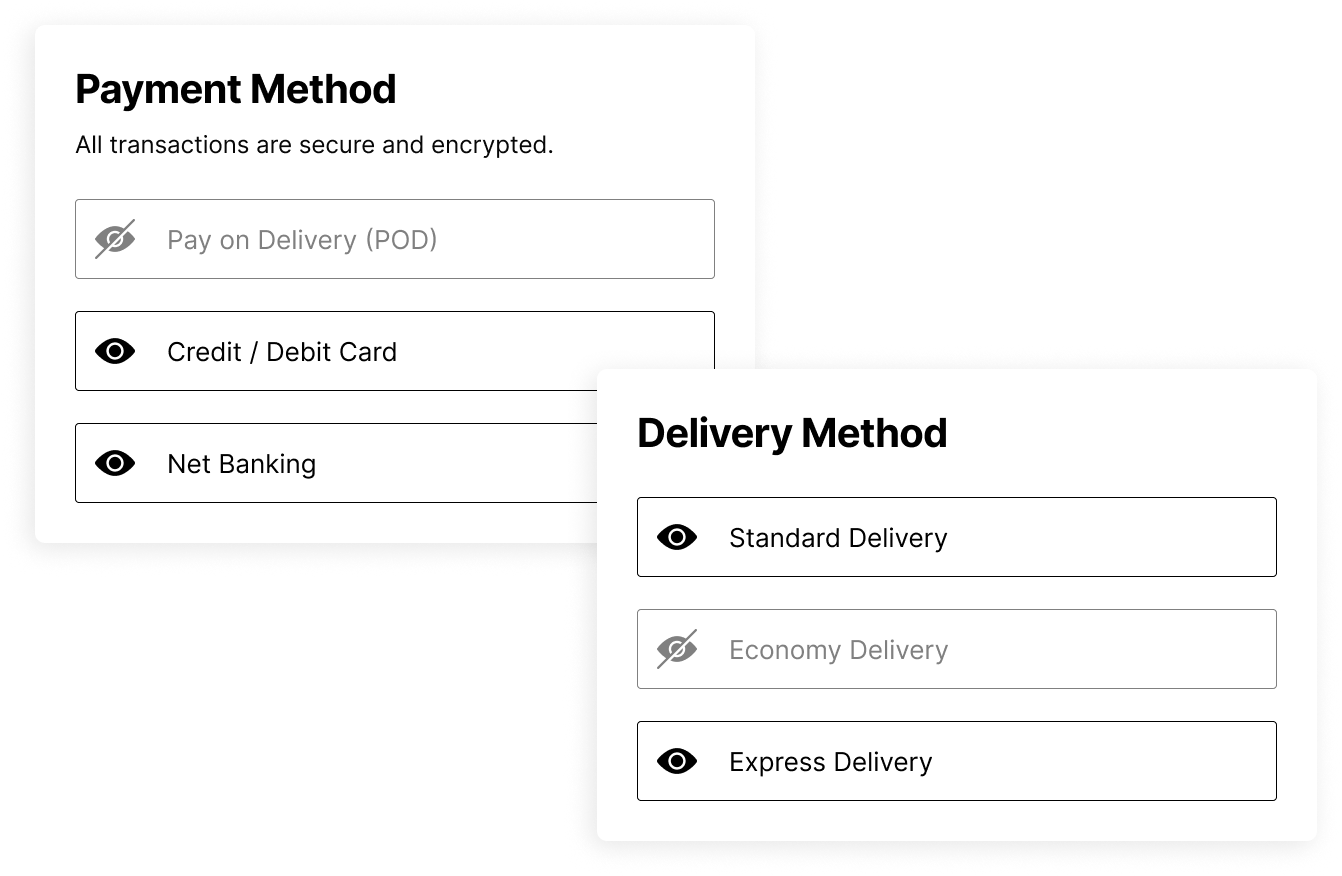 Hide Payment/Delivery
Create conditions based on order details such as cart total, weight, SKU, collection, address, and customer tags. Hide required payment or delivery methods if the order meets the applied conditions.
Shipping cost
Display profitable delivery methods for your customers at checkout.
Transaction charges
Hide the payment methods that charge more compared to others.
View Tutorial
Rename Payment/Delivery
Customize the names of payment and delivery methods and display those names if the order meets the applied conditions. Create different rules and choose if the order should contain them or not.
Make customers choose other options by renaming specific ones.
Display carrier names with shipping options to inform buyers.
Install Now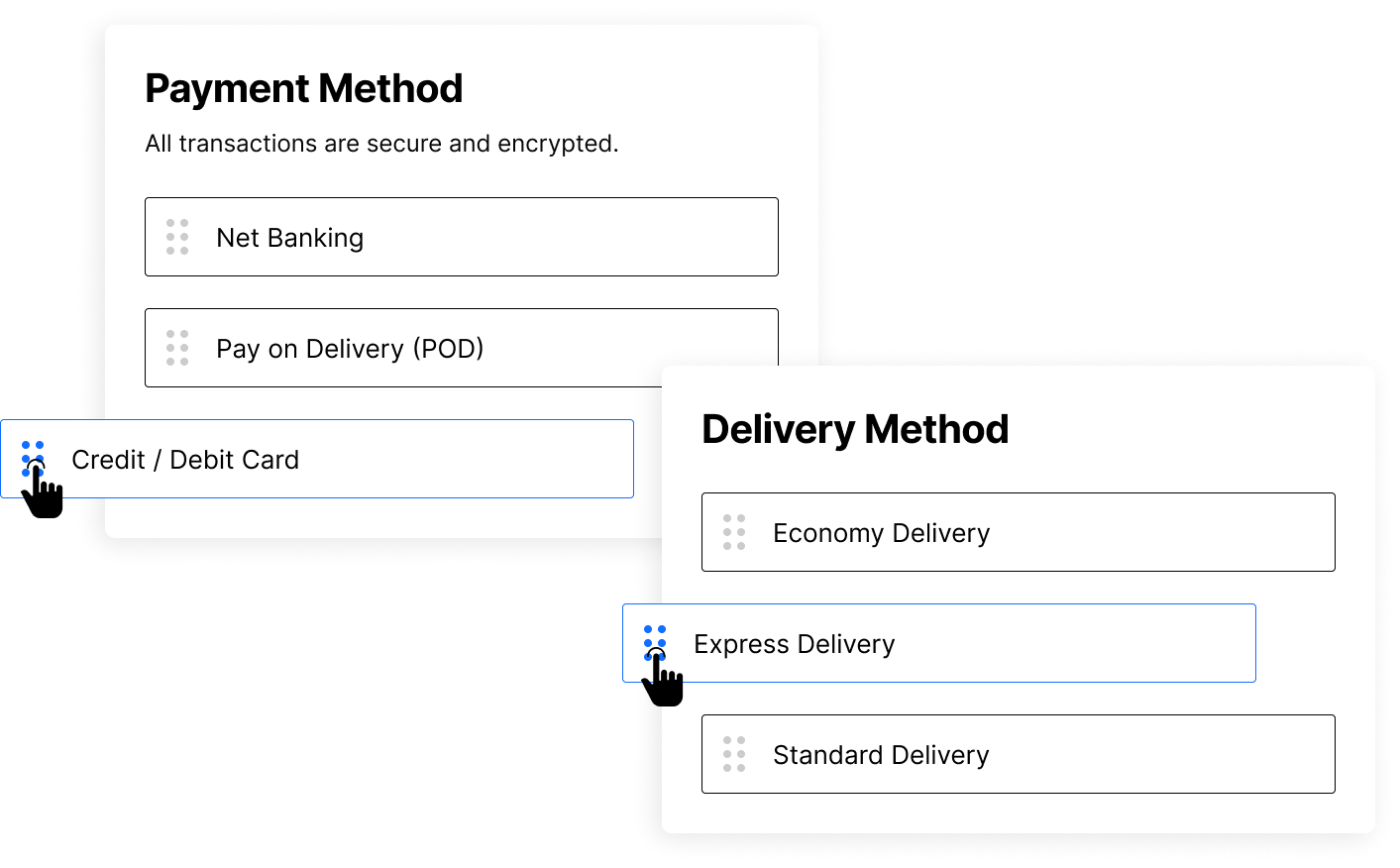 Rearrange Payment/Delivery
Display the most preferred payment and delivery method at the top of the list by sorting them. Make it easier for customers to find their preferred option and improve the user experience.
Promote preference
Keep the most suitable payment method at the top of the list.
Demote risks
Set the least preferred delivery partner at the bottom.
View Feature
Key Features
Installation Guide

A step-by-step guide to the app installation process and how to create customizations for delivery/payment methods as well as discounts.

Plug & Play

When you install the app, you don't need to add any code to your theme. It is just plug-and-play. You install the app, and it starts working on your store.

Easy Customization

Make changes to your checkout page easily without any coding. Create customizations that trigger if the described conditions meet in an order.

Varied Rules

Create multiple conditions from a set of distinctive rules based on order details. Create the most profitable circumstances for your business.

Conditional Discounts

Offer discounts on the only orders that make you a reasonable profit. Create conditional discounts on shipping rates and products.

Ready Templates

Input the amount and choose from a list of ready-made templates created for discounts and delivery/payment method customizations.

Checkout Branding

Make changes in the design of checkout features by replacing colors & fonts. Customize header position, case, form, and button corners.

Quick Support

Our app provides instant support through live chat and emails almost 24/7. You can contact our Support Team if you are facing any issues.
Pricing Plan
One plan covers all the required features
Save 20%

Monthly Plan
Yearly Plan
Line actions block

Checkout upsell

Custom fields & content

Payment & Shipping method: Hide/Rename/Reorder

Conditional product discount