Best Product Reviews App for Shopify by Thimatic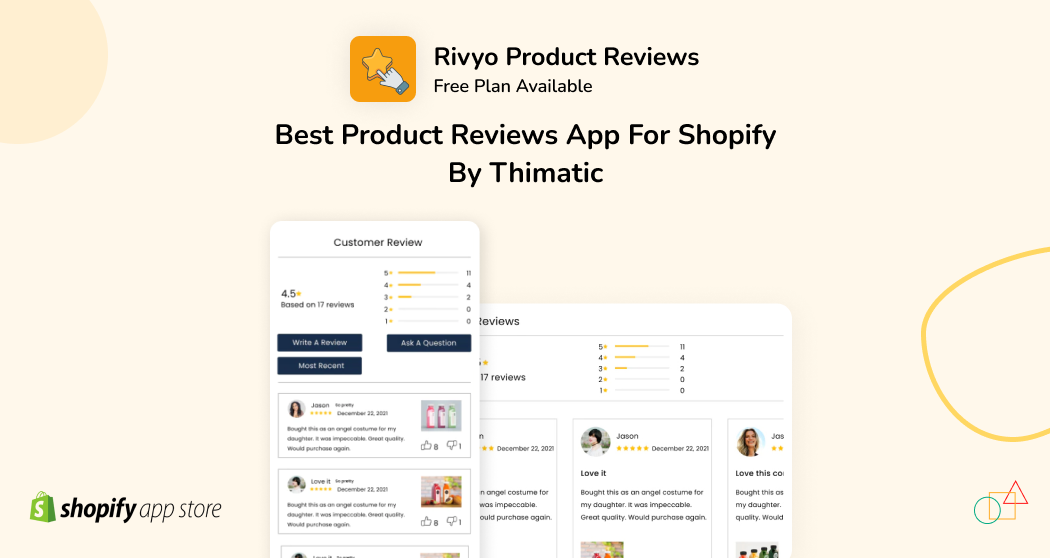 Reviews are one of the most effective ways to build trust with your customers. Most customers consider testimonials to be a reliable indication of a product's quality, which has a huge impact on their online buying decisions. Therefore, you need to have a Shopify Review App in order to help you collect more reviews and thereby increase conversion rate.
Product reviews play a vital role in the decision making of any customer before buying a product or using a service provider. Reviews are the opinions and experiences of other customers who have purchased that product or service. Our Rivyo Product Reviews App helps you to increase online sales by generating many quality reviews that will highlight all aspects of your product.
A closer look at our application reveals the following:
• Allow customers to share reviews and images of products. An app allows them to ask any pre-sale questions about the items they want to purchase.

• The dashboard will display real-time reports for each day. It will give clear information about how many new reviews were added on a particular day. The admin can see total published/unpublished reviews and total published/unpublished questions.

• After an order has been fulfilled, this software will automatically send a mail with your personal message. Pre-ready attractive email templates are also available. Additionally, you can customize the mail text and email template as you want.
Rivyo Product Reviews App offers you:
• Customer Testimonial Widget- Enhance your site's credibility and generate more leads by displaying customer testimonials on your home page.
• Review Request Emails-You can maximize your review gathering by using automated, customized email messages to reach out to your shoppers.
• Highlight Reviews on Google Shopping- Attract customers to your product by having positive reviews on Google Shopping and in search results (Rich snippets)
• Captivating Store Reviews- Add site reviews to your ecommerce site, and watch as your business grows.
• Advance Setting Option- You can take advantage of advanced customization options to create a site that matches your store's theme.
• Measure Your Improved Performance- Easy to use dashboard provides a quick overview of the recent reviews, review requests and other relevant information.
Key Features of Advance Plan:
1. Merchants can easily import reviews from Amazon and AliExpress.

2. Show reviews in your product pages, on your store's website, or wherever else you want customers to see them.

3. You can make a positive impact on Google by adding product ratings to your website.

4. Completely customizable, style each object from text color and font size to button style and icons.

5. An administrator can also raise a question about any product to get customer feedback, which will help resolve any doubts customers have about products.

6. Export unlimited reviews in CSV file format.

7. Allow automatic release of reviews of specific ratings.

8. Hide review label of non-review products.

9. Verify icon to see if the user is genuine or fake.

10. Review sidebar pop-ups.

11. A dashboard that provides a summary of all products and all reviews.

12. Display the average rating of product reviews.

13. Please vote for the most useful Questions & Answers.

14. Modernized grid layouts make it easy to display reviews in unique and interesting ways.

15. Add product reviews to the thank you page with our ReConvert integration.

16. Increase your brand visibility on Google Shopping by adding product reviews to your shopping feed.

17. Merchants can set up coupon codes when customers will be encouraged to write reviews about their products.

18. You can request a review by sending an email to your customer.

19. Added would you recommend this product check box.
Conclusion
Rivyo Product Reviews is a Shopify app that helps eCommerce store owners increase their bottom line by converting site visitors into customers. It has an average rating of 4.9/5 stars with 1750+ reviews on the Shopify App Store.