How to Hide Payment/Delivery Methods on Shopify Checkout Page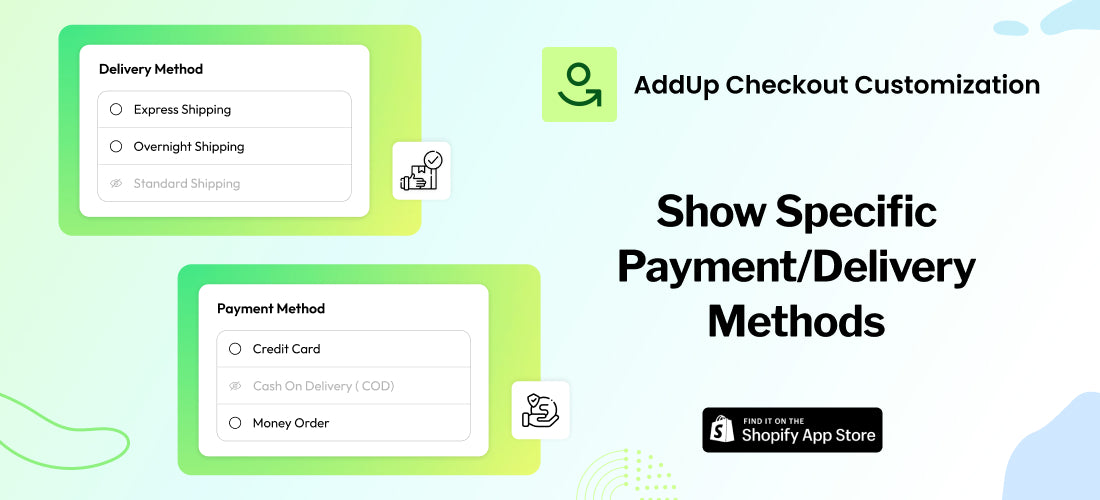 Until now, Shopify merchants did not have control over their checkout page. Customization of the checkout page to show specific delivery/payment methods wasn't possible. But a solution to this is now available. AddUp Checkout Customization app lets you Hide/Sort/Rename Payment & Shipping methods at your store checkout page based on the order details. No coding is required to customize your checkout page, as it can be done simply by creating rules with conditions on the order details.
Advantages of Hiding Payment Methods
Enhanced User Experience: By hiding payment methods until the final stage of the checkout process can make it faster and more intuitive for customers.
Security and Fraud Prevention: Prevent COD order cancellations after being dispatched. Receive advance payment of the order by omitting convenient payment options in risk-related orders.
Transactional fees: Merchants may want to hide particular payment options as they might incur higher transactional charges due to the total amount or business account.
Reduced Cart Abandonment: A clutter-free & straightforward payment page can help eliminate distractions and streamline the final steps, minimizing the chances of customers abandoning.
Advantages of Hiding Shipping Methods
Customize the Checkout Experience: Providing too many shipping options can harm the brand's image. Filter out to show the best shipping carriers to your premium customers.
Shipping Cost Calculation: Hide the shipping methods that cost your business comparatively more in specific locations or due to order weight.
Minimized Cart Abandonment: If a merchant faces limitations in shipping options due to factors such as their location, size, weight, or carrier restrictions, it becomes necessary for them to consider hiding specific shipping options to prevent disappointing customers after the order is placed.
Competitive Advantage: In a highly competitive market, online sellers may opt to conceal specific shipping methods to protect their unique shipping strategies from being discovered by competitors, ensuring they maintain a competitive advantage in the market.
How to Hide Payment/Shipping Methods without any Code
Let us go through a step-by-step process of hiding payment and shipping methods on your store checkout page using the AddUp Checkout Customization app.
Note: The process for creating a condition to hide a specific payment or shipping method is the same. Here is the process of hiding a payment method.
Step 1: Open the AddUp app on your store.
Step 2: Click on the 'Setup' button beside 'Payment Customizations'.
Step 3: Click the 'Hide' option in the 'Shopify script method' box.
Step 4: Give a name to your script for your reference under 'Payment customization Title'.
Step 5: Enter the payment method that you want to hide. You can also choose multiple payment methods to hide.
Step 6: In the 'Customization Rules' box, create a rule and apply a condition on whether that rule should contain or not contain in the order. You can create multiple rules.
These are the available options to select a rule type from:
Cart Details – Total Amount, Subtotal Amount, and Total Weight
Cart Has Any Items –  SKU, Collections
Address – Country Code, Province Code/State Code, Zip Code/Postal Code, City/Area, Address Line
Customer – Customer tags, Total Spends, Company
Delivery/Shipping – Title
Step 7: Click on the 'Create' button at the bottom of the page, and your customization script with be created.
Now, if any order matches the exact rule that you have created, the mentioned delivery or payment method won't be visible to that customer on the checkout page.
Conclusion
There are other ways to hide payment/shipping methods at the checkout page, but they require coding and technical knowledge. AddUp Checkout Customization makes the process easy so that it can be carried out by merchants without needing any help from the developers. You can also create conditional product discounts that apply to the order only when the stated rule is true.