How to Sort Delivery & Payment Methods on Shopify Checkout Page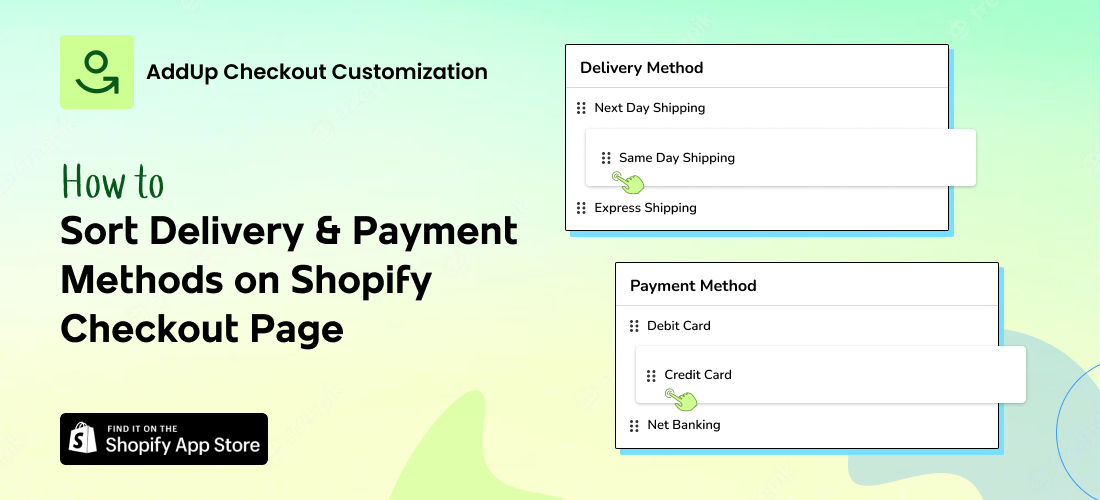 Have you ever wondered if you could reorder the delivery and payment methods to display them in the order you want? Well, we have built an app that has the same feature. You can sort the payment and delivery methods to display them in an order in which the methods beneficial to your business stay on the top of the list. Let's look at the process to Sort Delivery & Payment Methods on Shopify Checkout Page.
Step 1: Install the 'AddUp Checkout Customization' app from the Shopify App Store. 
This app has an easy installation procedure where you don't need to add any code to your store theme. The app integrates with your Shopify checkout page immediately.
Note: The process for reordering payment and delivery methods is the same.
Step 2: Click on the Delivery Customization option from the menu on the left side of the page.
Step 3: Click on ' Create Delivery Customization' on the right side of your screen.
Step 4: Choose the 'Sort' option from the Shopify script method menu.
Step 5: Name the customization title for your reference. Choose the sorting order, whether you want to display it First to last or Last to first.
Step 6: Click on Select and choose the delivery method from the drop-down menu. Click on Add Rule and add the delivery methods in the order you want to display them on your checkout page. You can use the drag-and-drop function to rearrange the order by clicking on the six dots beside the delivery method.
Step 6 (For Payment Sorting): Here you do not get the dropdown menu to select payment methods. You have to manually input the exact name of the payment method as it is displayed on the checkout page.
Step 7 – Click on Create and your condition will be updated.
AddUp Checkout Customization allows you to set rules based on Cart Details, Cart has any items, Address, and Customer Details to rename delivery methods. 
The app provides a 14-day free trial. 
The app has additional features that allow Shopify merchants to Hide/Rename/Sort Delivery or Payment methods by defining specific conditions.
Click here to read about 'How to Rename Delivery Methods on Shopify Checkout Page'.