Top Must-Have Shopify Apps for E-commerce Success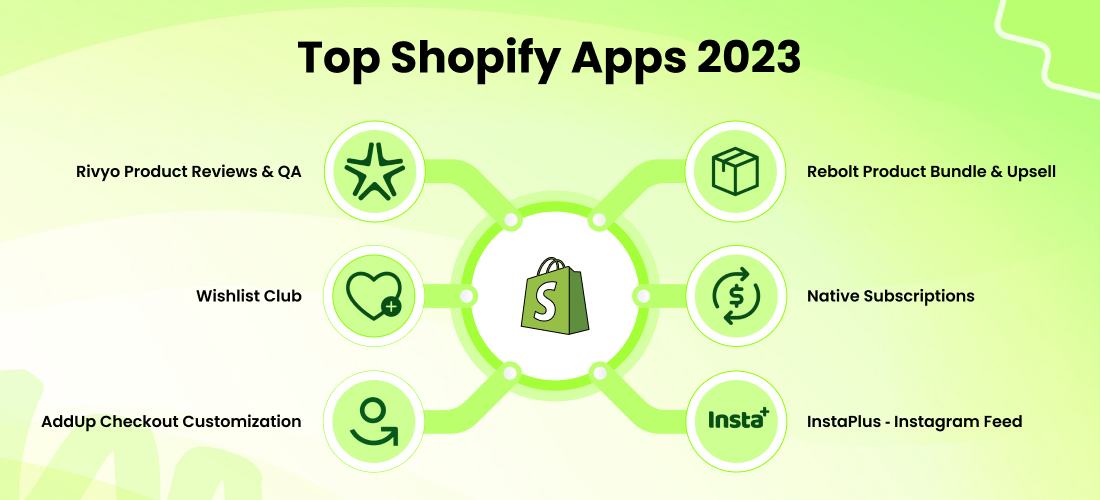 In order to increase the limitations of your Shopify store, you need to install multiple Shopify apps that can help you enhance the customer experience, boost sales, and carry out customer support. But with the increasing number of apps on the market, it has become challenging for merchants to choose the right app for their requirements.
This blog includes the most efficient apps that will serve the most common purposes of your stores.
Displaying customer reviews on an online store has become essential as buyers look for them before making a purchase decision. Reviews help customers clear up their doubts related to the product and get an accurate overview of what to expect. 
With Rivyo, you can build trust among customers by showcasing Product Reviews, Testimonials, Store average ratings, and Reviews and Ratings Popup widgets. You can display reviews in various layouts or on a dedicated All Reviews Page.
App Rating: 4.9
Key Features:
Bulk import customer reviews from Amazon or AliExpress.

Collect more reviews by sending automatic review request emails.

Display specific product reviews and store average in a popup widget.

Highlight your product on Google Search (rich snippets) and Google Shopping.
Pricing: Free plan available. Paid plans start at $9/month.



Dropshipman is a Shopify app designed to simplify dropshipping processes for online retailers. With an easy-to-use interface, it allows users to connect their Shopify store with various dropshipping suppliers across the globe, making it effortless to import product listings and manage inventory. The app automates order fulfillment, enabling seamless integration with suppliers for smooth product shipping. Dropshipman also provides valuable features like real-time inventory updates, order tracking, and supplier performance monitoring, giving retailers full control and visibility over their dropshipping operations.
Average rating: 4.9
Key Features:
One-Click Import Products

Price&Inventory Sync

Automatic Order

Tracking Number Updates

Order Status Updates

Powerful Integrated Apps

Product Sourcing

Fulfilled by Dropshipman

Quality Inspection

Custom Packaging

Bulk Inventory Storage
Pricing: 7-day free trial available. Pro plan: $19.45/month.



Ecommerce stores have adapted the bundling strategy to attract customers. The logic behind it is to make the customers feel that they are getting more products for a comparatively lesser price and that they are saving money on the bundle purchase.
Rebolt allows you to create various bundles such as Product/Variant Bundles, Combo Bundles, FBT, Build a Box (Mix & Match), and Volume Discounts. Increase the average order value of your store by selling more products in every order.
App Rating: 4.9
Key Features:
Create bundles with all product variants and sync inventory automatically.

Allow customers to choose their favorite products and create a build box.

Create quantity discounts and sell more items in a single order.

Popup widget to display bundle offers on any selected page of your store.
Pricing: 14-day free trial. Advance plan: $12.49/month.



Regular buyers who purchase frequently from your store become your loyal customers. Gaining loyal customers for your store highly benefits your business, as they also act as your marketers. You can lock customers in for the long term with your business by making them subscribe to a product or service.
Native Subscriptions will help you to create subscriptions on your store and allow recurring billing options to your customers. The app has a seamless checkout experience, which makes it easy for customers to opt for the subscription.
Average rating: 4.7
Key Features:
Create daily, weekly, monthly, and yearly subscriptions.

Add a widget next to the Add to Cart button to opt for subscriptions.

Multiple payment options, such as Prepaid and Pay as you go.

Set fixed or percentage-wise discounts on subscription products.
Pricing: Free plan available. Pro plan: $25/month.



There are a lot of new apps that allow you to customize your Shopify checkout page to display specific delivery or payment methods for particular customers. This feature is very useful for merchants as it reduces the risk to their business. It also forces the customers to choose the merchants' preferred method of delivery or shipping.
This app allows you to Hide/Rename/Sort Delivery and Payment methods on your checkout page by applying conditions on the back end. The app is easy to set up and use, as it doesn't require any coding or technical knowledge.
Key Features:
Apply conditions on the order like total amount/weight, collection, customer tags, etc.

Create product discounts if the order matches the applied rule.

Rename delivery and payment methods to show different names to different customers.

Move your ongoing Shopify Payment, Delivery, and Discount Scripts to Functions.
Pricing: 14-day free trial available. Advance plan: $14/month.



Saving favorite products for a future purchase has become a regular practice in online shopping. Shopify Merchants should allow customers to wishlist products that they can visit again to purchase. Providing this small feature makes a huge difference in your conversion rates.
By installing this app, you can allow your customers to create multiple wishlists and also share them on social media or through a link. Customers do not necessarily have to sign up to create a wishlist.
Average rating: 4.9
Key Features:
Display the wishlist icon on the Home, Collection, and Product pages.

Auto Email Reminder for price drops and re-stocks.

Complete customization for the wishlist button to match your store theme.

Back-in-stock alerts, that are triggered on the Notify Me button.
Pricing: Free plan available. Paid plans start at $4.99/month.



All these above-mentioned apps offer exceptional customer support, which is reflected in the reviews on the Shopify App Store. Investing in these apps will help your Shopify store grow exponentially. If you need an additional free trial for any of the apps, please contact support@webcontrive.com with the app name and the duration you want the trial for.