How to start a subscription on your Shopify store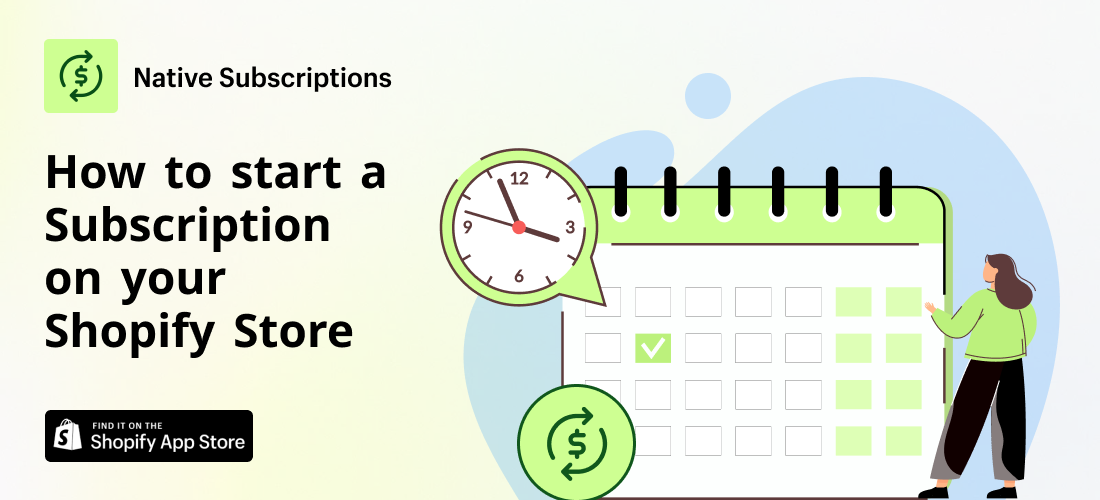 If your store has some successful products that are bought regularly by customers, you should start selling them through a subscription model. Subscriptions bring recurring revenue to your Shopify store, and they become a fixed, reliable source of income for your brand. Offering subscriptions in your store also increases your loyal customer base.
Let's discuss all the necessary points to consider before starting a subscription on your Shopify store.
Why do customers opt for subscriptions?
Convenience – When customers like your product and require it regularly, they are ready to subscribe to it for a long time. It is convenient for customers because they just have to complete the payment process once. Further, they can get the products delivered regularly without having to go through the checkout process every time.
Save Money – This is also a key factor in why customers choose subscriptions. They get the same product at a discounted price when they choose to subscribe. Moreover, more regular deliveries have higher discounts. Customers always have the option to pause or skip the subscription without incurring any extra charges.
Fewer Decisions to Make – When customers subscribe to a single product, they do not have to make decisions about the brand or variant every time they make a purchase. Subscriptions provide customers with the ease of getting their required product delivered to their doorstep without their involvement in the process.
Join a Community – Subscribers are a loyal customer base for the store and are highly valued by the brand. They are sort of involved in a community that includes the most valued customers for the brand. Their opinions and reviews of the product or service are important for the brand.
Types of subscriptions
Replenishment Subscription: This subscription includes essential items that are required regularly. Pet supplies and groceries are fixed items that are required on a regular basis. The main value provided to customers by this subscription is saving time and money.
Curation Subscription: Unique items that are not easily available are offered in this subscription. It includes apparel, beauty, and food products. Premium products that are only available through subscriptions fall into this category. This subscription provides a personalized experience for the customers by surprising them with product variety.
Access Subscriptions: Customers get an exclusive selection of items in their subscriptions. This model offers more discounts to members only. The motive of this subscription is to provide a premium or VIP experience to the customers by offering them exclusive products.
How to start selling subscriptions on Shopify?
Choose the product you want to offer: Offering all the products listed on your store in subscriptions won't be possible. Choose the products that have easy manufacturing and can be supplied regularly to the subscribers without any interruption by external factors. Tailor some of your highest-selling products and customize them to sell through subscriptions. Offer seasonal products that can be sold at a specific time in the year to make it exclusive.
Identify your USP: Determine the category in which your brand holds expertise. Maybe your brand would be known for selling the best products in that particular category. Try offering that in subscriptions. The goal isn't to provide more items in subscriptions but to offer quality products that you know will be bought more frequently. Once you've decided on an area of expertise for your subscription box, it'll be easier to analyze your target demographic, letting you adjust your marketing plan.
Install a subscription app on your Shopify store: You need to install a subscription app on your Shopify Store to start selling subscriptions. It is an easier method than integrating the tool with an API.
Install the Native Subscriptions app on your store. It is a smart and reliable app to allow subscriptions to your store. Merchants can offer pre-paid or pay-as-you-go subscriptions. You can offer frequency-wise discounts to persuade customers to opt for more frequent order delivery. Your customers can pause, skip, or cancel the subscription without incurring any extra charges. It is a responsive app that works seamlessly across all devices.
Offer multiple payment options: Limited payment options can be the major reason for cart abandonment in subscriptions. Customers opt to subscribe to a product because they do not want the hassle of making a payment each time the delivery is due. Make sure you allow the preferred mode of payment in your country.
Offering subscriptions on your Shopify store is the best way to start a reliable source of recurring revenue. It helps you create a loyal customer base that also acts as an indirect marketer for your brand. You need to be consistent in providing quality goods and services to your customers to keep them for the long term.
Read this blog to learn about 'Types of Subscriptions & its benefits for Shopify Stores'.