Types of Subscriptions & its benefits for Shopify Stores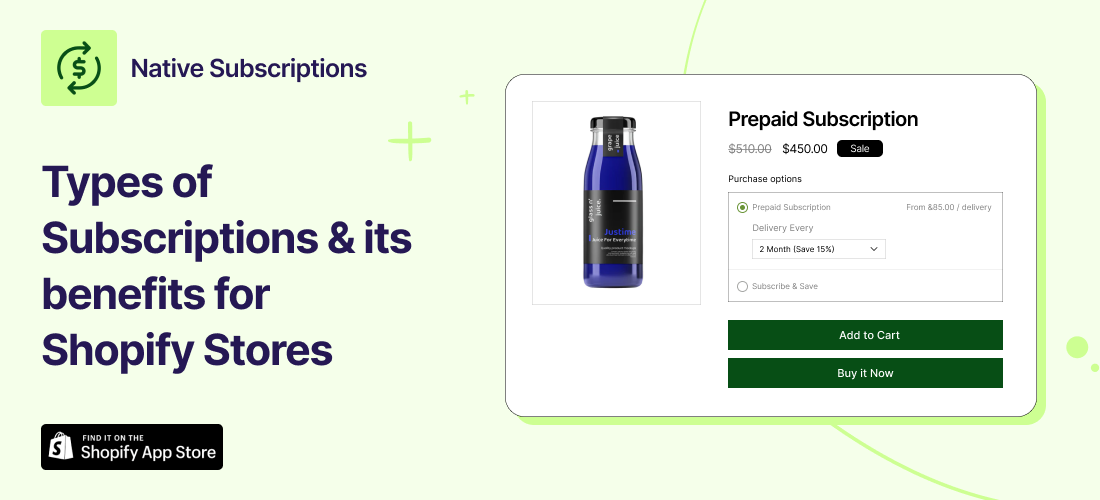 Offering products in a subscription model is the perfect way to start a stream of recurring revenue in your ongoing business. If customers like your products and services, they will stick with your brand rather than spend time finding a new one. Customers turn into loyal customers once they subscribe to a product for frequent delivery. 
 Types of Subscription
Pay As You Go –

This subscription method gives the customer the convenience of paying in intervals as they receive the delivery rather than paying for the whole subscription upfront. They can opt for a recurring billing option that automatically deducts the amount before the products are shipped for every delivery.

Variant Specific –

Customers can opt for different variants of a single product every time they want a product delivered. This subscription is majorly useful to stores that provide seasonal product variants at different times of the year. For example, if a store is selling fruit juices, the customer can opt to receive different quantities or flavors of a single product.

Pre-Paid Subscription –

This subscription method involves making a full payment for the whole subscription in advance to avoid the hassle of paying every time. This ensures that the customer will engage with the business for a long time. 

One-Time Purchase –

Customers can try products in a subscription box by making a one-time purchase and continue to receive the products if they wish. This allows customers to test the product before committing to frequent deliveries. For example, customers need to try food products before they subscribe to have them delivered every month.

Subscribe Only –

Customers can subscribe to products and receive them weekly, monthly, quarterly, and yearly. They can skip, edit, or cancel the subscription at any time within the duration of the ongoing subscription without incurring any extra or cancellation charges. 

Build a Box –

Customers can add multiple products to a subscription and create a build box to receive multiple products in a single delivery. This model is useful when there are different add-ons and accessories for the primary product. For example, customers can choose multiple quantities from their subscriptions to get delivered in a single shipment.

Frequency Wise Discount –

Merchants can offer discounts based on how frequently delivery is demanded by the customer. This encourages the customer to opt for a more frequent delivery, which results in more sales for the business. There are two types of discounts in this model; fixed and percentage. A fixed discount stays the same for the whole subscription, whereas, with a percentage discount, merchants can offer a special discount for the first delivery and continue with a standard discount thereafter.

Widget Subscription Pricing on Home Page –

Merchants can mention the prices of a subscription on the home page to attract customers to choose a subscription. Widgets can be placed on different product pages to show the subscription pricing.
Shopify stores can benefit from offering subscription services in several ways:
Predictable revenue:

Customers that subscribe to a service consent to a predictable recurring cost, generating a steady source of income.

Customer loyalty:

Customers that use subscription services are more likely to remain loyal to the business and make repeated purchases.

Increased customer lifetime value:

Since subscribers are more likely to make repeated purchases from the retailer over an extended period, subscription services can boost customer lifetime value.

Reduced churn:

As subscribers are more likely to keep making purchases from the store over time, subscriptions can lower consumer churn.

Inventory management:

With subscription services, the retailer can better predict customer demand, which can aid in inventory management.

Cost savings:

Subscriptions can help reduce marketing and customer acquisition costs as the store can focus on retaining existing customers.

Personalization:

Subscription services can be customized to individual customer preferences, increasing the likelihood of customer satisfaction.

Data insights:

Subscriptions can provide valuable data insights into customer behavior and preferences, allowing the store to better tailor their offerings and marketing strategies.
Overall, offering subscription services can provide numerous benefits for Shopify stores, from increased revenue and customer loyalty to improved inventory management and personalized offerings. With the help of the Shopify app Native Subscriptions, you may get all these advantages.
Read this blog to learn about 'How to start a subscription on your Shopify store'.