Advantages of showing Amazon/AliExpress reviews on your Shopify store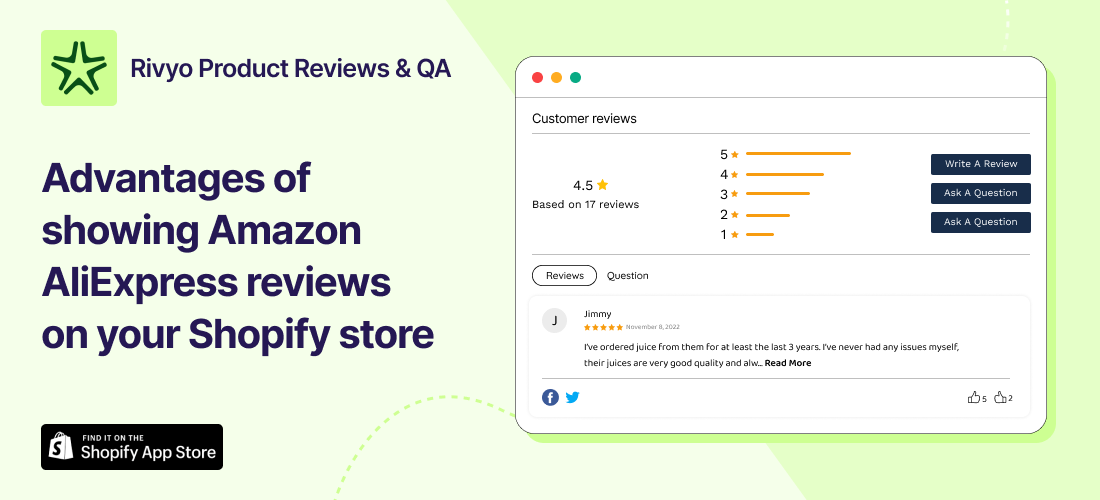 With the rise of e-commerce sites, customer reviews have started getting more attention from shoppers. This is because that is one reliable source to know about the quality of the product and the service of e-commerce stores. Customers buying products online cannot touch or feel the product to examine it. Therefore, going through customer reviews is the new quality check. Even the apps on the Play Store are judged at first sight by the number of reviews they have.
Importing your store reviews from established e-commerce platforms like Amazon or AliExpress gives your Shopify store more credibility. Rivyo Product Reviews & QA is a Shopify app that allows you to bulk import your valuable Amazon and AliExpress reviews to your store.
Benefits of displaying Amazon or AliExpress reviews on your Shopify store:
Build trust –

If you have just set up your store on Shopify and want to get started, your store won't have any reviews that shoppers can read. Importing reviews from other platforms will build trust with your new customers and help you get the initial orders until you can collect more reviews from new sales.

Add value to your brand –

Even if your brand is creating the best-in-market products, customers will be skeptical about buying them if there are no reviews to get a different perspective. Customers will give more value to your brand if they read better-quality reviews of your store.

Improves SEO –

As per Google's algorithm, pages with customer reviews are ranked higher on the search engine. Also, customer reviews include relevant keywords in them, which also benefits the SEO of the page.

Increase sales –

All the benefits mentioned above contribute collectively to increasing the sales of your store. The chances of retargeting a customer get lower if there are favorable reviews regarding a product on your Shopify store.
Take advantage of the reviews that you have on other platforms and the efforts that you put into collecting them and maintaining good service for your brand. Importing and displaying reviews is easy with the Rivyo Product Reviews & QA a Shopify app.
See this to check out the 5-step process to import reviews from Amazon to your Shopify store.
Click here to learn How to import reviews from AliExpress to your Shopify store.