Top 6 Best Premium Shopify Themes For Your ECommerce Stores 2018.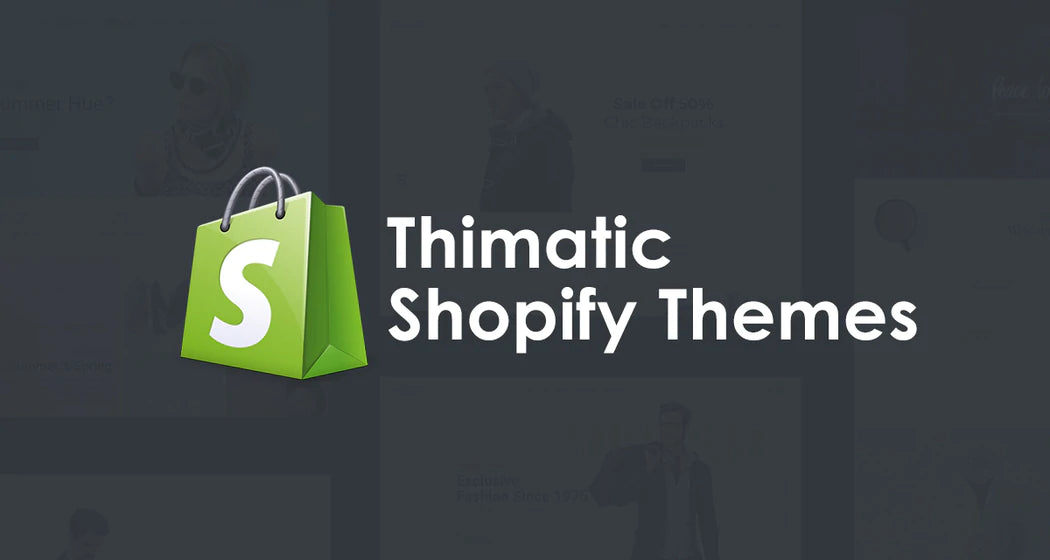 Shopify theme is something which is a complete package of all basic functionality, but The Thimatic Shopify premium themes are providing something which you will never find in any free or premium Shopify theme on an eCommerce platform. So take smart move while selecting Shopify premium themes from Shopify themes market.
All amazing Shopify themes are made up of Bootstrap templates as it comes with HTML5, CSS3, and Javascript already built in, which you can customize for your e-commerce stores content.The Premium eCommerce Shopify theme market offers a diversity of themes that will help make your store look wondrous. Simply browse our collection of premium themes and find what works best for you.
Best Premium Shopify Themes With Its Premium Features For Your Supreme ECommerce Store.
Countdown Timer.

It shows urgency to buy a specific product in a shorter time, which is beneficial for both customers who can grab their loved products at the best prices and store owner's conversion increased.

The Scarcity Of Remaining Stock.

Another best way to increase conversion as it shows a leftover stock of products just because customers just cannot drop out on any chance to take the benefit of any offer even A study says it converts nearly 9% better conversion than the variation of product on the product page.

Currency Switcher.

Probably the essential feature for any international eCommerce store because customers adore seeing product price in their native currency even default currency can be set. It is an ideal solution to make your store in multiple currencies oriented.

Shipping Time Estimator.

It shows the estimated delivery time of any product. It is a necessary thing to tell the beloved customer, especially when you are owning an international store because all shoppers of the world cannot wait to know that when will they receive their order?

Email Pop-Up.

The Email pop-up provides a very strong call-to-action. This action might be used for announcement or festival sale advertisement to the shoppers, but actually, for the store owner, it collects an email address which helps make a genuine bond with patrons in future.

Mega-Menu.

The isolated way to expand any store which separates the entire store content so Thimatic Shopify Templates are providing you an easy to navigate, smooth, responsive-ready and sleek Mega-menu even with layered navigation options.

In-Built Recently Purchased Item Pop-Up.

Which shows the freshly purchased product from the genuine customer. It is another way to motivate the customer that Shopify stores are providing authentic products and you are not first to experiment with the product.

Cart Page Urgency.

A great incentive for your store because most of the shoppers skip the final checkout step during online shopping so you can display the urgency on the cart page not to feel pressure to complete the order but to impulse the buyers to buy the product.

Value Proposition.

A value proposition tells patrons why they should trust your store and your goods. A value proposition is a sign of trust and goodness to be delivered to the customers that's why all thimatic themes are displaying a value proposition on the product page to manifest surety while buying goods.
All Thimatic premium themes contain the comprehensive document. Go to the www.thimatic.com and live demo of any elegant theme, you will find all significant code of Advanced HTML elements like Alert text, Buttons, Collapse, Drop Downs, Forms, Navs, Navbar, Pagination, Progress, Labels, ToolTips. The Developer just needs to change the class of the element for quick and attractive tweaks.
For those who are planning to start successful online Shopify stores in 2018, let's have a look at the best premium Shopify themes which will help you to develop a store quickly without taking extra expensive efforts on eCommerce platform.
1. Cairo – The Multi-Purpose Shopify Theme.
This is the theme which is suitable for any kind of online store which is not limited to the specific product category. Cairo theme is the absolute choice for the store owner who is launching a huge store which has a lot of products. Cairo is the theme which includes all essential and attractive features still it is clean, composed, attractive and easy to use.
The most attractive feature of Cairo theme is CountDown timer, which announces the beginning and end of any particular sale. This timer shows urgency to the shoppers by alerting the particular sale, which is available only for the next x hours.
2. Fashionable Shopify Responsive Theme – Limas.
Select this theme for the store which will need higher-level of customization in the future. It has a bizarre section which differentiates specific products or collection to reach the product promptly. It is obvious that the store keeps updating with new products, contents, images, extra pages and many more things to keep the store alive, especially on a specific occasion like Black-Friday or Halloween. Limas theme is developed in a way which gives completely different and attractive look on the special festival by doing high-level customization yet each theme provides a complete documentation which will help you to expand all features and facilities so you don't need to worry about that just buy Lima's theme and enjoy the wondrous experience of this theme for your winning store.
3. KYOTO Theme – Multipurpose Shopify Responsive Theme.
The Kyoto Shopify template is preferred for the store owner who has a small number of products and wants to focus on engaging features which make store unique and attractive. Kyoto comes with the fixed navigation menu which will be staying fixed on every page for the smooth and easy navigation to make the user experience natural and stable.
4. Aires – Premium E-Commerce Shopify Theme.
The boldest and most flexible Shopify theme because Aries is made with multiple templates, pages, and distinctive snippets to give maximum flexibility to the user. It gives impressive layout options for larger Home Page. The theme is built using the latest technology with lots of customization choices. So, you can easily add or update multiple sections, featured product sections, grid view for product collections with multiple rows and products, newsletter updates etc…
Aries is even suitable for an already established any eCommerce store as it is made up by taking care of all fundamental things about how to develop any store and how to migrate any store to Shopify.
5. Florence – The Best Premium Shopify Theme.
Thimatic team has done a great work to promulgate such an artistic Shopify theme. It must be the ideal choice for the store owner who is planning to grow aesthetically attractive store as its name. Florence theme is made with all the efforts to make it more and more user-friendly and charming.
Florence is an attractive Shopify template, but with full of great features like newsletter integration with MailChimp, sleek mega menus, rich snippet support, SEO optimization, full-screen product galleries, countdown timer, color variations, wish list, Google Maps integration, Built-in recently purchased product popup and many more.
6. Hersey – Shopify Responsive Theme.
The complete prepackaged template because it is highly UI-Friendly and such a welcoming theme's appearance which converts visitors into customers. Give your online store marvelous life by installing Hersey template and don't worry if you are a novice to the Shopify or an eCommerce platform thimatic team will take care of each and every stuff from theme installation to make it live with SEO optimization.
The Hersey theme has exceptional content sliders at the top of the page with high-graded customization of images, headlines buttons even with its alignment. It is completely responsive from smaller to desktop screen size and orientation. It works flawlessly on all mobile devices and visitors will feel same quality and smoothness as the desktop.