Benefits of adding Popup Bundles on the Shopify store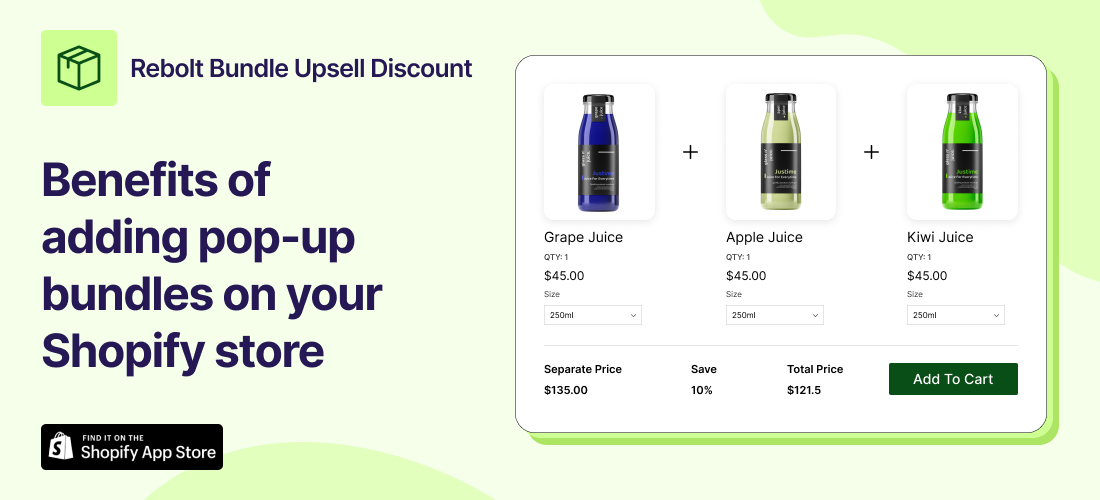 Increasing sales and revenue is always a top priority for online store owners. Offering pop-up bundles on your Shopify store is one way to accomplish this. Pop-up bundles are a type of promotional offer that combines several products at a reduced price. For good reason, this marketing strategy has grown in popularity. Adding pop-up bundles to your Shopify store can boost not only sales and revenue but also customer satisfaction and inventory clearance. In this response, we will go over the benefits of adding pop-up bundles to your Shopify store in greater depth.
What is a popup bundle?
A popup bundle is triggered for customers to see value in buying more quantity to save money. A bundle is offered at a comparatively lower price than their respective prices. This strategy revolves around the idea of persuading the customer to buy more quantity, thereby increasing the overall order value for each order. For example, if a customer is buying a trending novel, a bundle of the three most sold novels is offered, which includes the item that the customer was going to buy. An upsell offer is made to the customer to sell an upgraded version of the product, but in bundles, the motive is to sell more items to every single customer. 
A popup bundle is more effective if adding the products to the cart is possible with one click. Rebolt Bundle Upsell Discount offers to embed popup bundles that can be bought by customers with a single click.
Benefits of adding pop-up bundles on your Shopify store
Hike in conversion rates –

These bundles are triggered when the customer is already in the mindset of making a purchase. So when similar or related products are offered at a discounted price, the customer is likely to buy more to make a saving, which increases the conversion rates.

Enhanced customer experience –

Offering related products in a bundle enhances the customer experience as they can come across similar products that they may not have discovered before. Customers do not have to find the bundles; they just have to make a decision when the popup appears, and they can switch to the bundle with just one click.

Increased average order value –

More items are sold in a bundle with a single purchase. This increases the average order value for the Shopify store, which results in more revenue for the business. Also, it increases the chances of the customer returning to purchase one of the products in the bundle.

Easy to execute –

Bundle building is easy to execute on your Shopify store with Rebolt Bundle Upsell Discount Shopify app. You can also customize your bundles and make them look like a part of your website.
Where can you display popup bundle offers?
Popup bundle offers are a great way to entice customers to make a purchase or take advantage of a promotion. They are typically displayed as a small window that pops up on a website, offering customers a special deal. Popup bundle offers can be a powerful tool for businesses looking to boost sales or promote specific products, but it's important to know where and when to display them to get the best results. In this response, we'll explore some of the most effective places to display popup bundle offers.
Home Page – Trigger popup bundles of hot-selling items of your store on the home page to alert buyers of different items in your store.
Collections Page – Offer bundles on the collections page by showing discounts to hold customers on the site and increase the chances of conversion.
Product Page – Create smart bundle offers on product pages to display similar product bundles to what the customer is currently browsing.
Cart Page – This is the last touchpoint in the customer journey where you can make an upsell by offering a bundle at a discounted price.
Blog Page – Display bundle offers on the blog page to attract the customer into making a purchase even if they are there just to read your content.
Selected Page (Any Page) – Highlight popup bundles on the landing page as soon as the customer gets on your website. Show bundle offers on any page on your website to boost your business's revenue.
Why Choose Rebolt?
Rebolt Bundle Upsell Discount is a Shopify app that allows you to create various bundles for your store. You can easily create bundle popups for different pages on your website. The popups and offers can be customized to match your store's theme. Creating bundles and customizing them is less time-consuming with Rebolt.
Check out this blog on How Bundle Pricing Strategy Can Grow Your Shopify Business