How much does Shopify expert cost in 2022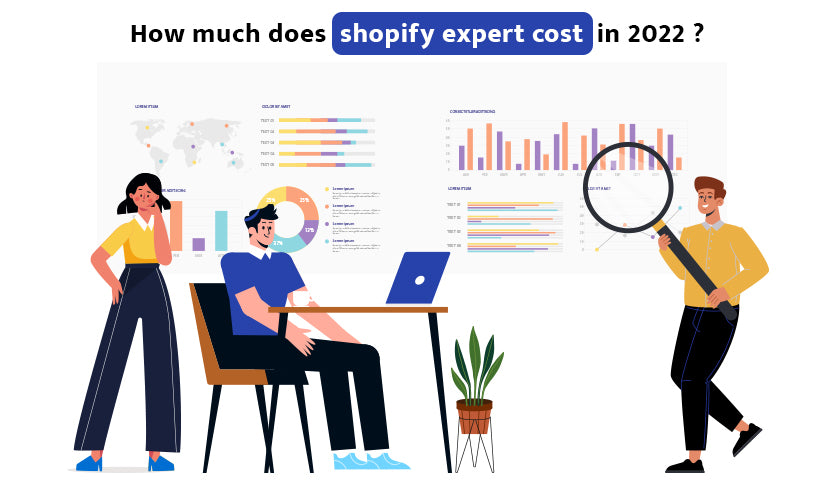 Shopify is one of the most well-known platforms for the eCommerce industry. Shopify is used by dropshippers of all kinds of businesses. It is highly recommended for first-time entrepreneurs because of its user-friendly interface. Are you wondering about how much it costs to hire a Shopify expert in India? Or doing it all alone? Let me help you to find out how much you should pay for your dazzling Shopify store.
Why do you need Shopify experts?
Choosing the right themes and apps for your business is an extremely confusing process. Hiring a Shopify developer is a good choice for your online store if you are a beginner. They can help you in What attributes must-have? Which Shopify templates work best for your niche? And of course, the most important question… How much does it cost to create a custom store?
Mostly, this will reduce work in the designing and development phase. Consider these 2 determining factors
how much work needs to be done, in terms of size.

the complexity of your Shopify website.
Shopify is a customized dropshipping service where you can create your online store to display, sell, and ship digital or physical products. This popular e-commerce platform is easy to start with no experience in building a web store with mobile-friendly Shopify theme templates, why should anyone need a Shopify expert?
If you can spend money and run out of time, a Shopify expert is exactly what you need. This is where the question of how much a Shopify expert will cost arises.
Things to Consider before hiring Right Shopify Developer
1. Are they skilled in Shopify APIs?
APIs help Shopify developers to turn a simple website into a high-converting e-commerce store. There are many Shopify APIs to solve all kinds of business issues. Without the deep knowledge of APIs, a Shopify developer will not be able to give you the desired result. Checkout the official API guide pages and make notes for  Shopify APIs. There's no need to get overly technical. When you get in touch with a Shopify freelancer, ask about the APIs they had worked on previously. If you are satisfied with the developer's knowledge, congrats your search is over! If you found knowledge of APIs is depthless, continue your search elsewhere. On the other hand, confidence in explanations means that the developer is skilled and you can trust them.
2. Will they continue to support and maintain the project after it goes live?
Shopify online stores require support and maintenance even after making a LIVE. Before you finalize the professional It's advisable to look for support information. Some companies provide free support and maintenance services for a limited time & some may charge a fee from the first day of deployment. 
3. What tools do they use for project management and communication?
Communication is very important in the development of a Shopify store. A Shopify development company has a dedicated Project Manager who can clearly answer all your questions.
Check out which tool your developer is using for project management and communication. Ask before, if they are willing to adapt the instruments of your choice. Because your contribution and feedback will influence the final product, and you will get a clear line of communication.
4. What are the top skills a Shopify developer should have?
Developers must-have skills like: a complete understanding of JQuery, PHP, and JavaScript, expertise in APIs platform, presentation and communication skills and have a portfolio of past clients.
5. They Have Experience Optimizing Shopify Stores for Use on Mobile Devices
In today's era, people enjoy shopping on mobile devices. With the expansion of mobile commerce, there is a list of things to keep in mind if you want your website to be really mobile-friendly. It's critical to know about the developer's expertise with mobile devices. Search about their previous work and how they test the final product. Which devices they used to provide their customers with the best mobile experience possible. Consider that only testing on virtual devices will not provide you with the most significant benefit. Some features only work on real smartphones or tablets, you will need your Shopify store to be run on physical devices.
Toptal is a marketplace that offers top freelance Shopify developers, engineers, programmers, coders, architects, and consultants for your projects. Startups and top companies hire Toptal Shopify freelancers for their mission-critical software projects. If you're looking to hire Shopify developers make sure to check them out.