Rivyo Product Reviews & QA Integrated With EComposer Landing Page Builder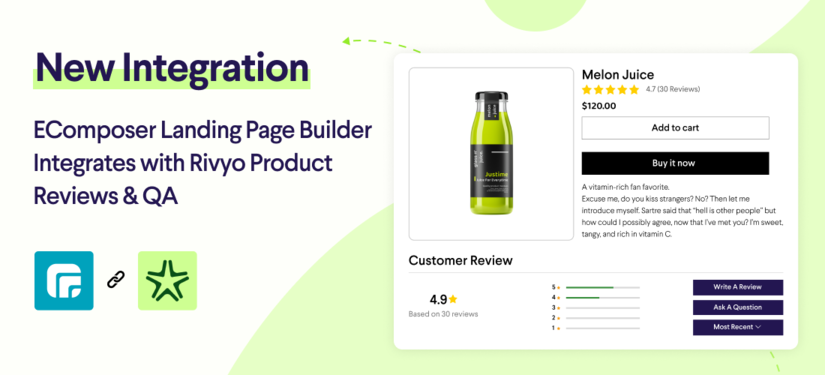 Rivyo has some fantastic news! New integration with EComposer Landing Page Builder has just been introduced, offering users a smooth and easy method to embed product review widgets into their EComposer pages. By using social proof to enhance customer trust, this integration elevates the user experience and drives more sales.
Case of Integration
The recent integration of Rivyo and EComposer is aimed at offering users a seamless method to incorporate product review widgets and star ratings into their EComposer pages (product and collection), thereby assisting them in collecting reviews and boosting trust. By using a user-friendly drag-and-drop interface, users can effortlessly add Rivyo's social proof widgets to their EComposer pages, displaying customer reviews and ratings to provide shoppers with vital feedback on their preferred products. For detailed instructions on setting up this extension within EComposer, refer to the comprehensive guide.
About Ecomposer
EComposer is a Shopify page builder app that enables merchants to quickly and easily create custom pages and layouts for their online store. Merchants can quickly design pages that showcase their products and brand using a drag-and-drop interface and pre-built content blocks.
EComposer Key Features:
Versatility:

With EComposer, users can experience a high level of versatility, as it supports a wide range of page types, such as landing pages, homepages, products, collections, and blog pages. Furthermore, EComposer provides users with builder options for sections, password pages, global blocks, footers, and quick views, allowing them to customize their pages to their liking.

Layouts and templates:

EComposer offers users an abundant selection of layouts and templates, consisting of over 100 page layouts, 190 section templates, and a wide range of design elements and options, providing users with the flexibility to design pages that align with their specific needs and preferences.

Easy-to-use builder:

EComposer's drag-and-drop builder is user-friendly and includes several stunning pre-made layouts, making it easy for users to get started and design pages effortlessly.

Add-ons and integrations:

With 15+ built-in add-ons and integration capabilities with top Shopify apps, EComposer offers users a comprehensive range of features, providing them with enhanced functionality and adaptability.

Optimization:

EComposer is designed to be optimized for all devices and browsers, and its built-in SEO optimization tools aid in improving page rankings and drawing more visitors to the store.
Contact information:
App link: https://apps.shopify.com/ecomposer 
Website: https://ecomposer.io/ 
About Rivyo
Rivyo is a Shopify app designed to assist merchants in gathering and showcasing customer reviews on their product pages. With personalized email templates and automated review request emails, merchants can effortlessly accumulate feedback from customers without having to contact them individually.
Rivyo Key Features:
Automated review request emails:

With Rivyo, users can take advantage of an automated review request email feature that sends emails to customers after they have received their orders, encouraging them to share their thoughts.

Customizable email templates:

Rivyo offers customization options for email templates, empowering merchants to personalize the emails that are sent to customers, ensuring that they reflect the brand and the products being sold.

Easy review management:

Merchants can access an easy-to-use dashboard via Rivyo to manage all their product reviews. This dashboard enables merchants to approve or reject reviews, respond to customer feedback, and analyze review statistics.

Social proof widgets:

Merchants can leverage Rivyo's social proof widgets to showcase customer reviews on their product pages, enhancing the credibility of their brand.

SEO benefits:

Product reviews can contribute to a store's search engine optimization (SEO) by providing search engines with fresh and pertinent content to index.
Contact information:
App link: https://apps.shopify.com/rivyo-product-review? 
Website: https://www.webcontrive.com/ 
Rivyo and EComposer Integration Benefits
Integrating product review widgets into their EComposer pages empowers merchants to utilize the power of social proof to enhance customer trust and drive more sales. Studies have indicated that online shoppers are more inclined to make purchases when they see the positive feedback from other customers. Furthermore, Rivyo's dashboard streamlines review management, enabling users to efficiently approve or reject reviews, respond to customer feedback and view review analytics, all of which offer valuable insights into how customers perceive their products and services.