A New Look for a New Era: Unveiling Our Updated Shopify App Icons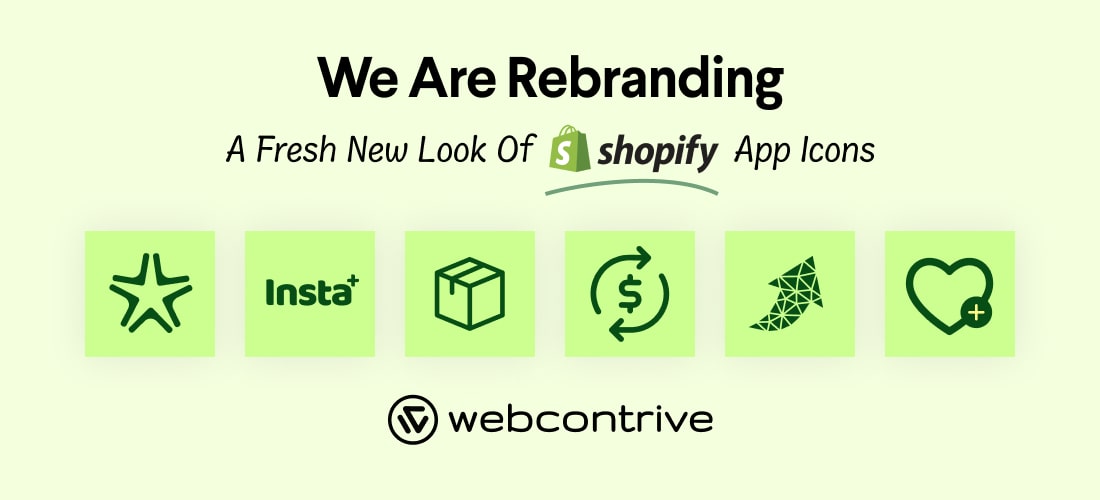 Webcontrive Technologies Pvt Ltd is pleased to announce that our Shopify apps just got a visual makeover with our brand new app icons – check them out! Elevate your Shopify app experience with our new and improved app icons – a fresh and eye-catching update you won't want to miss!
Not only do the best products and services make a business successful, but a strong and recognizable brand is also crucial. This is why we're thrilled to share that we've updated our Shopify app icons with vibrant colors that more accurately represent our values and mission. Our rebranding is a reflection of our commitment to providing a visually appealing and cohesive brand experience for our customers.
A Fresh Look for Our Shopify Apps: Rebranding with New Icons
We are thrilled to reveal our Shopify apps' new icons, which are a testament to our years of dedication and expertise. Our updated icon design maintains a clean and minimalistic aesthetic, with a subtle nod to our previous designs, as a tribute to the hard work that got us to where we are today. We are proud to showcase our growth and evolution through our new icons, which reflect our commitment to excellence and innovation.
Let us provide you with a brief overview of each app and its updated icons:
Rivyo Product Reviews & QA is a Shopify app that enables you to easily integrate and display product reviews, photos, Amazon/Aliexpress reviews, testimonials, and store ratings on your store. The app's new icon features a clean and straightforward review symbol, which accurately represents its purpose and function.
This Shopify app is designed to help you boost your average order value by offering various options such as product bundling, mix and match, volume discounts, and showcasing frequently bought items together on your store's product page. The app's new icon features an eye-catching bundle box that encourages customers to take advantage of bundle deals and create bundles.
This Shopify app provides a variety of subscription options and enables users to manage recurring payments and orders for their store with ease. The app's new icon is a simple subscription symbol that accurately represents the app's primary objective and the subscription model it supports.
4) InstaPlus – Instagram Feed
If you want to showcase your Instagram feed on your Shopify store and make it shoppable, add a product page gallery, or display user-generated content, this Shopify app is the perfect solution. The app's new icon features the word "Insta" and a plus sign, which represent its shoppable feed feature and highlight its ability to turn your Instagram feed into a powerful marketing tool.
With its wishlist button, price drop alert, restock alert, and auto email reminder features, this Shopify app can be a valuable tool to boost your sales. The app's new icon features a prominent wishlist symbol, which reflects the main feature of the app and its ability to help customers keep track of their favorite products and make purchases when the price drops or when items are back in stock.
6) WC Upsell & Cross Sell
If you're looking to increase your sales by implementing cart upsell funnels, post-purchase upsell offers, and product upsells and cross-sells deals, this Shopify app can be a valuable resource. The app's new icon has an instantly recognizable upsell sign that stands for its capacity to expand your business and boost earnings.
To ensure that our users can easily recognize Shopify apps provided by WebContrive Technologies Pvt Ltd, we have used the same background color across all of our apps. This design choice helps to create a cohesive and recognizable brand experience for our customers, making it simple for them to identify and navigate our apps.
Check our apps here: https://apps.shopify.com/partners/webcontrive