How To Make Perfect Product Detail Page?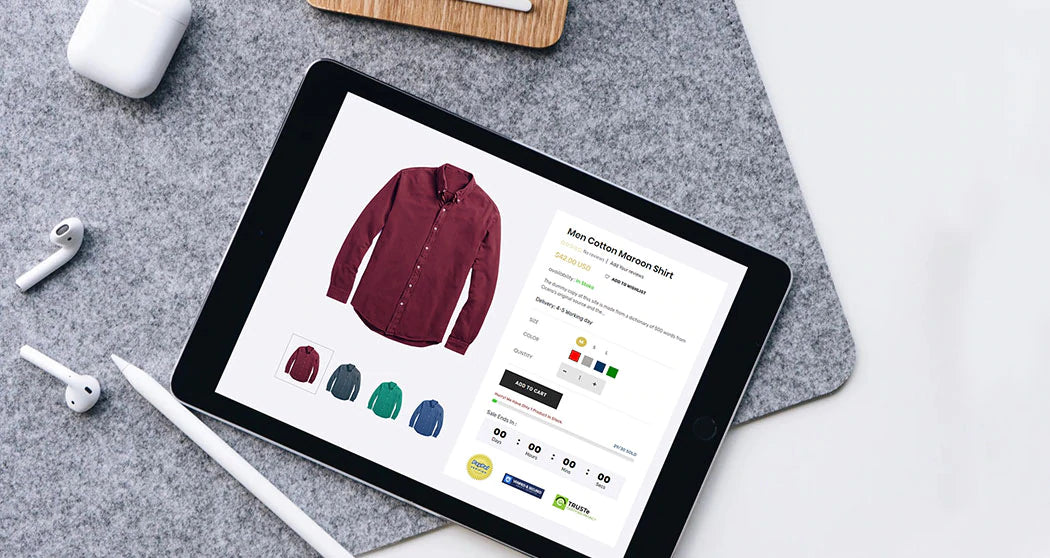 While designing an online e-commerce store, a lot of focus is given to the HomePage. Yes, the Homepage is a really important page. It is your landing page that visitors see when they arrive at your store but the Product detail page is the page through which customer buy your store's product. It is necessary to customize your product page based on customers required features and SEO friendly features that help to grow your business and convert your visitor into customers that never leave your website without buying any product. Usually, it is the last page the user sees before beginning the checkout process, so it plays an important role in the users buying journey.
Are you planning to start your own online business with Shopify?
Check out this FREE Shopify Kyoto theme. This theme is build up with all conversion boosting features along with perfect & attractive product page. This free theme is preferred for small to big online business.
First of all, let's find out which are the most boosting features?
Your product page design is one of the most valuable pages of your store. Respect all of the situations where a potential customer might land on your product page:
1. Direct from search engine.
2. Organic user.
3. Clicking through a targeted advertisement.
For the most successful product pages, you will focus on a variation of these same elements that must have on your product page. This element is not helping to just customer but also helps for SEO.
1. Clear And Unique Descriptions

A product description is the most important part of your product page it does not only inform customer about your product but also help with your search engine rankings and bring in more customers in the right place. Improving your product pages is one of the easiest things you can do to double your sales and all you can do in minimum time. With our Kyoto theme, you can easily add a product description with an attractive design as well as you can convert your visitor into customers.

2. Great Product Pictures

One of the obvious parts of online shopping is product photos that customer being able to feel, touch, or physically examine a product you are considering. Product photography plays such an important role in your product pages. For some customer, viewing simple photos just isn't enough. Instead, they want to see it full-screen so we really need to be giving those users in-particular, desktop and tablet users the capability to see the products as big as possible.

3. Product Reviews

Including product reviews on the product page is a great way to introduce social proof. 88% of customer preferred to buy a product online with its reviews and rating. Positive reviews help to boost your sales and also help to build confidence in your products. Customer reviews are such a commonly-used approach, look for ways to build your customer's attention.

4. Clear "Add To Cart" Button

This is the most important element of the product page from the viewpoint of conversion optimization. The "add to cart" button must be easy to find for customer otherwise, you will risk losing genuine customers.

5. Stoke Availability Label

"In stoke" and "out of stoke" are showing the availability status it should always be clear to the customer whether an item is in stock or not. It shouldn't take the user adding an item to their cart and beginning to check out before finding out the product they required is out of stock.

6. Countdown Timer

Countdown timers create a sense of urgency that works well for your online store. Countdown timers are a clear visual sign which tells your customers that, if they want a product, they must take action within a period of time. It is beneficial for both customers as well as a store owner to increase sale conversion.

7. Currency Switcher

Our Kyoto theme comes with many exceptional built-in features, one of them is Currency switcher. customers prefer to deal in their own currency because of the problems in transaction processing and currency exchange rates. The currency switcher allows your customers to see the products in their local currency & buy products.

8. Shipping Time Estimator

Shipping time often gain or loses some genuine customer so it is the most valuable feature of an online e-commerce store. Use this best feature to attract more customers and grab your store to the next level with more orders.

9. Recently Purchased Item Pop-Up

One of the best marketing tactics which help to gain organic traffic. Each online merchants must aware with the power of Recently Purchased Item Pop-Up. It clearly shows that someone has purchased a product when you are thinking about buying this product.

How helpful it is?

1. It builds customer trust.
2. It shows other buyers activity.
3. This feature also reveals the most popular product.
4. Also, grab customer attention.

10. Product Badging

Is your product page built with product badges feature? If not then you might lose customer trust. It is necessary to build customer trust when they visit our store so having trust badges on the product detail page is essential. Product badges make your store more attractive and powerful.